If you're like most businesses, keeping track of your customers' warranty entitlements can be a daunting task. Trying to keep track of all the different warranties and their associated terms and conditions can be time-consuming and frustrating. But don't worry, we have the solution! The SAP Warranty Entitlement Check is a specialized SAP solution that makes it easy for businesses to lookup warranty information and entitlement status. With the SAP Warranty Entitlement Check solution, you can quickly and easily find out whether a customer is entitled to receive a warranty repair or not. So if you're looking for an easy way to manage your customers' warranty entitlements, look no further than Warranty Entitlement Check!
What is an Entitlement?
An entitlement is a customer's right to receive service or support from a company. This can include repairs, replacements, refunds, or other types of assistance. Warranty entitlements are typically granted by the manufacturer of a product and are based on the terms and conditions of the warranty. In order to provide the best possible service to your customers, it's important to keep track of their entitlement status. With the SAP Warranty Entitlement Check, you can do just that! Without an accurate record of a customer's warranty entitlements, a customer may experience extreme frustration and ultimately, may take their business elsewhere the next time they are in the market for your product or service.
How Does It Work?
The SAP Warranty Entitlement Check is a tool that helps businesses keep track of their customers' warranty entitlements. The tool allows businesses to quickly and easily lookup a customer's entitlement status across warranty, service contracts, recalls or service bulletins, and other coverages. The tool is designed to work with the SAP Warranty Claims Management system, as well as Service Orders, Notifications, and Sales Orders. It's an advanced software and consulting solution that helps businesses manage their entitlements.
How Do You Use the SAP Warranty Entitlement Check Tool?
To use the Warranty Entitlement Check, businesses first need to create an account and then register their products in the SAP Warranty Management system. Once registered, businesses can then lookup warranty entitlements for their customers by entering the customer's information into the SAP Warranty Entitlement Check tool.
What are the Benefits?
There are many benefits to using the SAP Warranty Entitlement Check, including:
Quick and easy lookup of customer warranty entitlements. By having detailed models of your product, and their associated warranty coverage, you can quickly determine whether a component is covered.
Ability to track entitlement status for multiple customers. For warranties that are consumed, i.e., via operating hours, you can track what your warranty exposure is across customers.
Ability to determine which warranties are in affect across your fleet, even when the fleet is owned by various customers. For example, you may have sold many airplanes to many customers, and you would like to know which warranties are in effect on every airplane you have sold. This is a specialized solution available from Detering Consulting.
Improved customer satisfaction. By being able to accurately determine what is covered via the entitlement check, you can provide auditable backup as to why something is or is not covered.
Reduced customer support costs. The fully automated nature of the SAP Warranty Entitlement check functionality provides for faster entitlement determination, directly lowering cost.
Why is an Entitlement Check Performed?
Performing a warranty entitlement check is the first step in the initiation of the warranty claims process, in ordering spares, procuring services to fix things, or fix an issue, or to get specialist support on a particular issue. Apple, for example, offers the famous Genie Bar service at most of their Apple Stores.
In order to get a free Genie Bar service however, Apple customers have to have coverage. Some diagnostic services may be free-of-charge, with the likely result of product replacement, or repair fees.
When is an Entitlement Check Done?
An entitlement check is done when a customer contacts the business with a warranty issue. The business will use the Warranty Entitlement Check tool to look up the customer's warranty information and entitlement status. If the customer is entitled to a repair or replacement, the business can proceed with providing that service. If the customer is not entitled to a repair or replacement, the business can explain the warranty coverage to the customer and offer other options for resolving the issue.
How Does a Customer Perform a Self-Service Warranty Check?
A Typical Scenario Almost Everybody Should be Familiar With.
Mary has an issue with her iPhone. She is looking for repair, or replacement of her phone. In order to check her eligibility for warranty or Apple Care, she goes online to https://checkcoverage.apple.com/ keys in her iPhone's serial and checks her warranty status. Optionally, Mary can look up her warranty status directly in her phone's settings -> general -> about screen, here is an example report: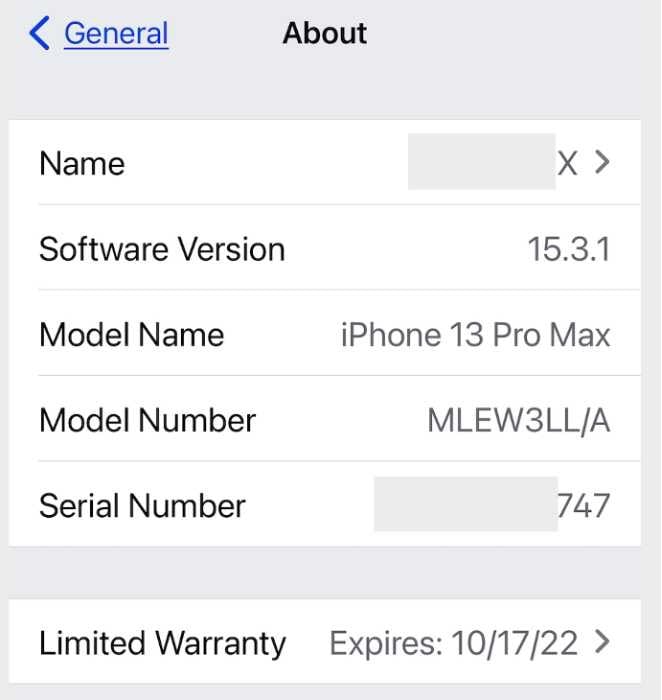 It says limited warranty until 10/17/22.
That is pretty good as she now will get free support from any Apple store worldwide, or from any of Apple's numerous service partners.
A More Complex Warranty Check Example
Another example of an entitlement check is to check your warranty or service contract entitlement of your car's VIN number.
Take Tesla's New Vehicle Limited Warranty - and check via any VIN numbers, for example 5YJ3E1EB9KF191906
A car warranty entitlement may be more complex as there may be several warranty levels, such as engine, minimum % of retention of battery capacity, and other coverages of the vehicles, say the powertrain, maintenance, corrosion, entertainment system, and emissions coverages.
Warranty Check Kicks Off a Complex Logistics Chain
In this example, if an issue is found which is covered by the customer's warranty, really it is the manufacturer's warranty, it will kick off a complex chain of events to resolve the issue. The SAP Warranty Entitlement Check tool will be used to lookup the customer's warranty information and determine which parts are covered by the warranty. The parts will then be ordered from the supplier and shipped to the customer's or technician's location. Once the parts arrive, a technician will be dispatched to the customer's location to perform the repairs. In order to delight the customer, a complex series of customer-focused communications will be exchanged at each step of the process:


Confirmation that the issue has been properly diagnosed and is covered by the warranty (or not).
A scheduling confirmation email that details the date and location of the service.
An identity confirmation email of the service technician.
The day of the service, there will be a pre-arrival confirmation email.
Post service, there will be one or more emails confirming the service delivered and asking for the customer to provide a satisfaction rating in order to create an NPS (Net Promoter Score).
There may also be opportunities to provide incentives (discount coupons) for recommended future services.



What's Happening in the Background (If you use SAP, of course!)
When the customer initiates the warranty entitlement check, which they will simply call or know as letting the dealer or manufacturer know something is broken, the entitlement check will be run in real time and an entitlement determination will be made. If the product is covered, a service case will be created and a Service Parts Order (SPO) will be triggered to the relevant supplier. The part may already be on-hand or a planned production order may already be able to cover it.
Logistic Execution and Warehouse and Inventory Management Processes Initiated
Now that the part and or required service has been confirmed, a series of actions will take place that touch many parts of the logistics, finance and human resource processes of the business. If the part is available, a stock transfer order (and several other actions) to get it to where it is needed, and to order a new one will be initiated. If the part is manufactured in-house, and there is available capacity, one will be consumed from this order. Otherwise, it will have to be slotted into the production plan.
Warranty Reserve will be Consumed
Because the part is under warranty, and thus, a warranty reserve fund will have been established, the warrantied part will consume part of this warranty reserve fund.
Human Resource System Will Kick-In
The service technician, whether an employee of the manufacturer or a 3rd party, will be booked, and his cost will be settled to the claim, once the part and service has been delivered. The cost for these hours will be determined from the labor rate table stored within SAP.
Those Guys from Quality Will Want to Know
Because we want to continuously improve our products and services, every warranty claim will 'talk' to our Quality Management system. The cause and cost of failure will need to be examined, and actions taken to improve this metric. Failure rates and cost per failure are Key Performance Indicators of interest to everyone.
Finance Will Need to Decide if They are Setting Aside Enough Warranty Dollars
Every company sets aside a small amount of money, usually amounting to a certain amount of revenue, to cover expected warranty cost. This warranty claim, like every other claim, will help determine whether enough warranty reserves are being set aside. For many companies, warranty cost will also be visible on their public financial statements.
Who Else Besides a Customer Might Do a Warranty Entitlement Check?
Owner and customer (May not be the same person)
Other customer employees who are interested in the warranty chain, for example recovery specialists
Call center folks
Internal support users
Service advisor working for the OEM
Service Partners, i.e. a dealership or service center, service technicians
Insurance, banking partners
Management
EC reports are part of management reporting tools, i.e. management may be interested in the outstanding warranty of their fleet and may make use of that detail to enhance their communication campaigns, marketing, customer service initiatives. For example, if a unit's warranty is about to expire, some companies will follow up with an service contract offering campaign.
SAP Warranty Entitlement Check Has a Huge Business Impact
The Warranty Entitlement Check is a critical tool for businesses to keep track of their customers' warranties. With this tool, businesses can quickly and easily lookup a customer's warranty information and entitlement status. This allows businesses to provide the best possible service to their customers, which in turn leads to increased customer satisfaction and loyalty. In addition, the Warranty Entitlement Check can also help businesses save money by reducing the number of warranty claims they have to pay out. As a result, the Warranty Entitlement Check has a huge business impact and is an essential tool for any business that wants to provide the best possible service to its customers.
Do you need help understanding or using the Warranty Entitlement Check? We can help! Contact us today to learn more about how we can help you get the most out of your warranty entitlements. We look forward to hearing from you!
Thank you for reading! We hope this article was helpful. If you have any questions or comments, please feel free to reach out to us.