SAP Warranty Claims Management
Provide fast, efficient claims management and reduce warranty costs with SAP Warranty Claims Management.
Looking for a state-of-the-art warranty solution for your enterprise?
Read up on our recent SAP ACS Warranty project implementation at Blount International: Another Successful Warranty Project Go-Live – Equipment Manufacturing Company
SAP Warranty Claims Management Solution Overview
Warranty Solution Overview (Business)
SAP Warranty Claims Management and the SAP Dealer Portal are part of SAP's ECC and S/4Hana. It isn't just an SAP automotive warranty management solution, though it does provide full support for the automotive warranty claims processing requirements of automotive manufacturers.

Best Warranty Management Software

A successful warranty program solves claims administration challenges, improves customer service, while providing key insight into internal and customer facing KPIs. The SAP warranty solution is fully automated and integrated with Finance and Controlling and provides full support to the SAP vendor warranty process. The solution actively supports quality management and management reporting, and yields savings: see our warranty project calculator. We'd love to show you how to uncover untapped revenue opportunities within your company using warranty management in SAP.
SAP Warranty Claims Processing Key Features:
Online Portal for Claim submission

Integration to the SAP ECC or SAP S/4Hana modules

Custom specific claim adjudication checks and pricing

Automated acceptance or rejection of claims based on rules engine

Automatic claim messaging (email, text, PDF, online)

Claim duplicate checks and fraud analysis
Integration to AR/AP finance postings and credit/check processing

Integrated Supplier Recovery

Integration to RMA ARM order for return parts, both customer-, as well as vendor-facing
Would you like to get a quick overview of the SAP Warranty Solution? Press this button:
SAP Warranty Claims Management is an E2E
In the following sections, we give an overview of how Warranty plays a crucial role in business functions: Warranty Solutions can be fully integrated with the following key business areas:
Sales, Marketing, Distribution and Billing

Finance and Controlling

Service Management

Quality Management

Vendor Recovery
Best kept secret is,- how to make an SAP project implementation pay for itself?
Contact us to find out, fill in the form on the right or use the chat tool.
Sales, Marketing, Distribution and Billing
Sales is a key component of the RMA process. Send out replacement spares to the client or service center, process RMA returns, correctly attribute cost and revenue to sales areas, business units, profit centers. Create accurate invoices of service activities and spare part management integrated with warranty claims credits, based on one source of the truth, improving billing and cash-flow.
Finance and Controlling
An integrated warranty system provides financial control concurrent with logistic movements. Real-time visibility into cost and revenue is a key driver for many SAP projects. Visibility of warranty accruals per period versus actual expenses enables fine-tuning general ledger accrual postings. Automate warranty provision, accrual processes.
Elevate your confidence in the global financial reporting picture to a new level: general ledger, controlling, profitability analysis, project accounting, automated to a detailed level, most enterprises would like to aspire to. Case in point: intercompany financial postings: intercompany billing seamless and automatic adherance to company code business rules on both sides, reducing accounting errors to zero.
Service Management
Touch points between claims management and
Field service


In-house or depot repair


Call center and remote services
require tight integration to the advanced claims management process. Master Data established for product, part, serial numbers, assets, equipment structures, counters, etc., combined define an enterprise-wide warranty policy. That policy can be assigned to materials or individual serial numbers leading to a cleansed master data for the installed base.
We enhanced the ACS warranty assignment function ('Equi Modify') via several improvements:
New, used material delivery (covered)
Repaired part delivery

(gap in ACS)

Drop Shipment (gap in ACS)
Exchange requires warranty or program swap

(gap in ACS)
Claim and service order cost is partially or fully applicable towards warranty claims accounting, and supplier recovery.
Touch points between claims management and Service Contracts include:
Service Contracts providing coverage for parts, services, etc. that are free or offered at discount prices.
Integrated solution between spare part sales, MRO/service, programs and warranty claims, ensures that reverse logistic and financial flows, as well as credits and debits are aligned.
Quality Management
A comprehensive warranty solution is fully integrated and automated, enhancing product quality awareness and predictive quality issue management, integrated with product engineering. SAP's warranty solution supports this holistic view, integrating warranty with SAP's QM – Quality Management module.
Vendor Recovery
The financial impact of vendor recovery is significant.
Often, money is left on the table because recovering warranty cost from suppliers is viewed as too cumbersome. Or, organizational silos make data workflow difficult, so that vendor recovery becomes an afterthought.
Another typical issue with Vendor Recovery is that existing contractual agreements are missing recovering warranty cost provisions. At the time the contract is put in place, Supply chain issues are at the core of negotiations. Vendor warranty may be an afterthought.
SAP provides strong vendor recovery capability that will allow you to claw back portions of warranty cost automatically, improving P&L.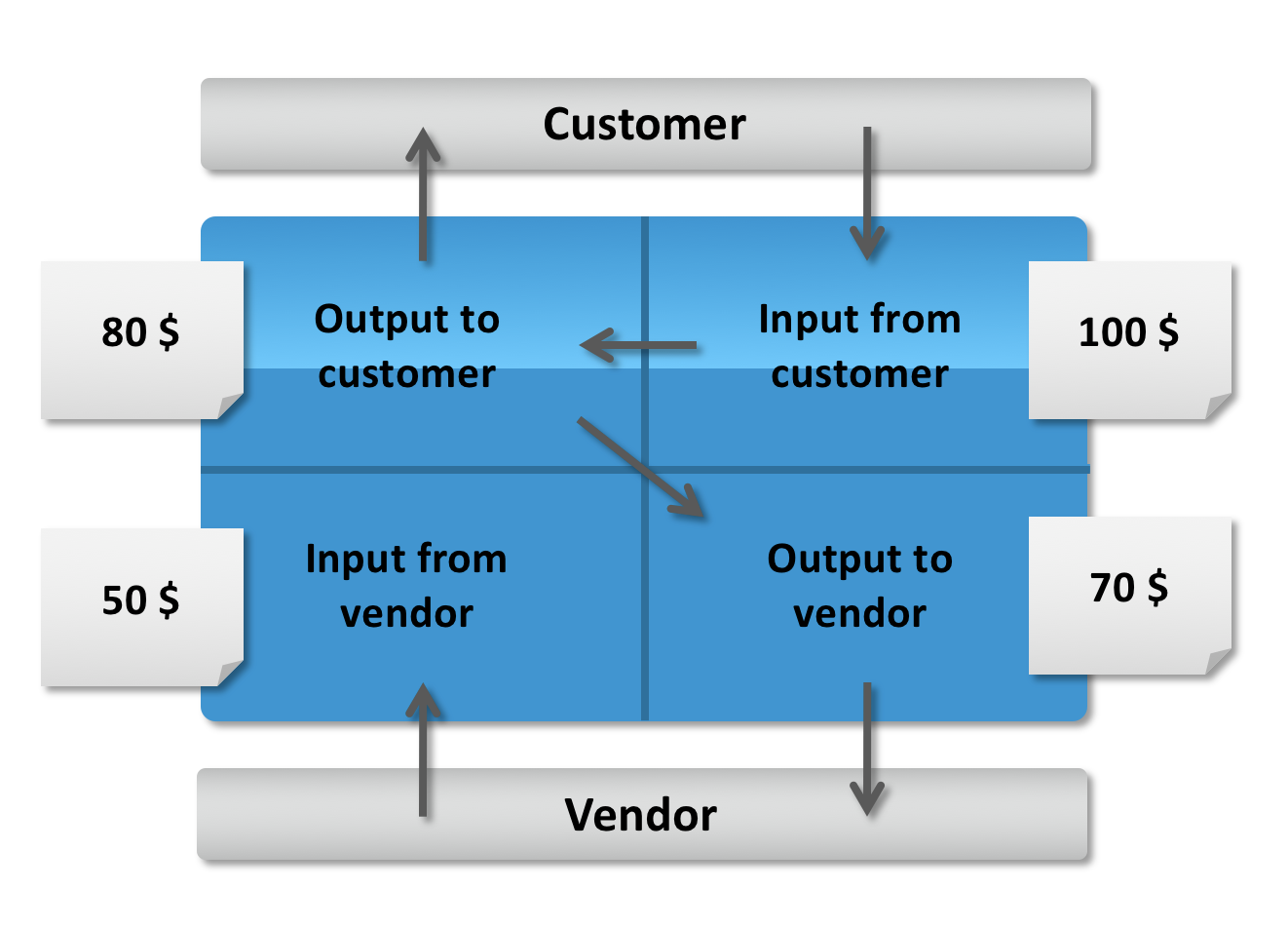 SAP Warranty Claim Structure Combines Customer and Vendor Claim Data
In closing, SAP Warranty Management functionality addresses these requirements exceptionally well.
To request a free consultation about how SAP Warranty Claims Management can help you achieve your goals, click the button:
Also, check out the Online Interactive warranty project value calculator here:
Warranty Solution Integration – SAP
SAP Warranty Claim Processing is a cross-application component that is tightly integrated into the SAP overall solution, from master data management (MM (Materials Management), SD (Sales & Distribution), CS (Customer Service), PM (Plant Maintenance)) and pricing (SD) through checking warranty records and creating measurement documents (CS) to posting FI documents (FI/CO) and evaluating warranty data through business analytics in SAP BW and BO. The SAP warranty process flow uses information from some or all of the following modules:
Contact us to find out more, fill in the form on the right or use the chat tool that is available on this website in the lower right corner.
SAP Warranty Claims Management is an E2E
Advanced Analytics and Total Quality Management
For customers who have suffered when they needed to find out information about what is under warranty, what kind of claims are being received for which models, etc. because they did not use a Data Warehouse, analytics enabled by SAP Business Warehouse provide the insight you need.
With the SAP BW (Business Warehouse) Data Warehouse, customers are now able to quickly find everything they want to know about every aspect of their warranty claim issues. More importantly, the data warehouse allows people to ask questions they would simply not attempt to answer in a legacy system.
The SAP BW analytics capabilities allows SAP warranty claims analytics to feed back to the product development process (design and engineering). That is a key capability. Analytics for spare part manufacturing customers have already provided benefits in the past through manually scheduled Cadence.
SAP BW and SAP's Warranty capability also implies an impact on organizational structure,- because data in the data warehouse doesn't do anything unless the organization is able to respond to what it is telling us. For example, users of SAP PP (Production Planning) benefit tremendously from data coming in from the field by a meticulously implemented warranty system.
Driving Down Average Warranty Costs Per Industry
An effective Total Quality Management (TQM) system that utilizes statistical process control (SPC) techniques, such as Six Sigma, depends on accurate, reliable, real-time data.
SAP Warranty Management EDI capabilities
Exchanging data via doing transactions via EDI or other data exchange technologies (i.e. XML) is a corporate imperative for many OEMs (Original Equipment Manufacturers) as well as retailers. Using SAPs extensive EDI capabilities, customers can easily exchange claim information and manage the process across the entire supply chain.
How to Solve Problems with Guarantees
The first prerequisite is to have a high quality product or service. Goes without saying.
A product warranty policy must be clear, transparent, and visible to the marketplace.
Provide an easy way to register and extend warranty.
Use claims data to continuously improve product quality and service offering. Big data angle.
Have a robust supplier recovery program, integrated with Six Sigma, QDX, 8D, portals, IQOS. Turning cost into a revenue opportunity. Make sure you are not bearing the cost of your supplier's quality problems.
There are, of course, numerous other ways and concepts to solve problems with guarantees.
Read about our successful SAP Warranty Management project at Blount International. Click on the link below to receive your free Case Study: