Explore SAP Warranty Interactively
SAP Warranty is a fully integrated warranty process management solution from SAP.
What is SAP warranty?
At its core, it is an expression of business rules and the mostly regional or global warranty policy of your enterprise for your products and services. Highly integrated within multiple SAP 'modules', or functional areas, SAP Warranty is able to receive claims via EDI (Electronic Data Interchange) or a portal, or other means, process the claim through its life cycle, testing against business rules, communicating with partners and administrators, and automatically adjudicate your claims, eventually posting the financial result to FICO (Finance and Controlling Module) - as a credit or debit posting.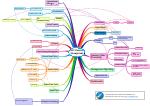 All automatically.

And, of course, the claim can be stopped for manual processing at any time. Based on checks.
Our SAP Warranty MindMap will help you get your mind around the warranty boundaries and integration areas
Use it to quickly learn the fundamental building blocks of a comprehensive SAP Warranty Solution
Fill out the form to download your own free MindMap copy in jpg-format.