Imagine that you manufacturer a complex product, such as Private Jets, Fighter Jets, Ships, Tanks, Buses, Trucks, Bull-Dozers, MRI Machines or even Diesel Powered Train Engines. Imagine further still that there is an expensive component on it, such as say, a high-pressure hydraulic pump, perhaps five or six of them, all critical to the operation of the piece of equipment.
They Were Designed and Warranted to Operate for 1,000 Hours Each
In our little scenario, let's focus on business jets, since they, like most all aircraft, have hydraulic pumps of some sort, and they're not cheap and clients have often negotiated extended warranties on particular parts of the aircraft. You've been selling the latest line of private jets, at a steady clip. Life is good, sales are up, customers are happy, and your bonus is sure to be a good one this year. Then, you start to hear 'noise' from the floor about hydraulic pumps failing.
No Problem, They're Under Warranty
As those hydraulic pumps start to come back to your plant, you use your Receiving Workbench, and start taking note of the condition of the pumps, and of course, sending out replacements. After all, you've got a customer screaming at you about an AOG (Aircraft on Ground) condition. Worse, the jet is stuck on the ground in a very remote location, somewhere in North Africa, where you have neither parts nor people available to fix it. Now you have to start the expensive process of bringing in the part and mechanic to swap it out.
Your Nightmare is About to Get Much, Much Worse
While one aircraft in AOG status is bad, you can handle it. But suddenly, almost all the jets you sold in a particular month, in addition to the one jet that is already down, start to experience hydraulic pump failures. Everywhere. All at once. You find that you now have hydraulic pump problems on a global basis, and your ability to fix them all at once, is stretched to the breaking point. After your engineers do some root cause analysis, they determine there is a design issue with the pumps, and after requesting additional information from the OEM (Original Equipment Manufacturers), you determine those pumps will need to returned and new, higher quality ones will need to be supplied to you and to your customers.
Sadly, This Happens All the Time
Complex systems experience these events all the time. While the quality of everything is generally higher today than it was before, the fact is, many systems have a predicted MTBF (Mean Time Between Failure) that greatly exceeds that which is actually experienced by customers.
If Only There Was a Way to Head This Problem Off
As it turns out, the above scenario always has a customer claim in the loop. That means your customer has suffered a negative event, which you now have to manage. There is a better way. That is the Stand-alone claim process.
Generate a Claim Before Your Customer Does It for You
Once it becomes clear that those hydraulic pumps that are in your customer's jets, which were supplied to you by a third-party hydraulic pump manufacturer, are failing early, you need to act and act fast. For example, let's say you originally ordered a batch of 10,000 hydraulic pumps, and have consumed 9,000 of them in the fleet of jets you've sold. You now know that the 1,000 pumps remaining in your warehouse will fail earlier than expected and as promised by the supplier.
You need to create a warranty claim using this information on those 1,000 pumps, while proactively issuing a product service bulletin or product recall on the pumps in the field. In this way, all warranty service activities now have way to be claimed, tracked and billed as well.
You Use the Outgoing Vendor Process
With the right technical warranty solution in place, which we call the Standalone Supplier Recovery system, a company running SAP (in this case, the jet manufacturer with 1,000 defective hydraulic pumps in their warehouse), can generate a claim against the vendor/provider/supplier/OEM/Distributor or whoever provided the product or service.
Product Performance Guarantees
In the scenario I laid out above, we are generating a claim based on a product performance guarantee, in this case, 1,000 hours of trouble-free operation is the expected MTBF. For companies who are actually practicing RCM (Reliability Centered Maintenance), and who use the output of their RCM practices to actually make these claims, they should be happy to honor such warranties and glad to replace those defective pumps with higher performance pumps that meet the MTBF numbers.
Sometimes, the Pump Vendor Doesn't Want the Pumps Back
There are advantages to the pump vendor to simply paying a refund, rather than physically handling 1,000s of pumps. For example, let's suppose vendor guarantees an MTBF of 2.5 years for their pump. Pumps that experience MTBF below 1000 hours get a refund of say $100. Now, the aircraft manufacturer runs a report in SAP monthly or quarterly that shows how many pumps had an MTBF below 1000 hours. In fact, this has a customer-facing claim side, but let's say these pumps are not individually recovered, they will be recovered in volume.
Then, by running a pump MTBF report, you know how many there are in the reporting timeframe, say last quarter. In SAP, the analyst creates an OV – outgoing vendor recovery claim ("Out of thin air" – perhaps based on an excel sheet). That new claim lists all the pumps with their MTBF Fees. The claim partner is the pump manufacturer vendor code. The total claim value is tallied over however many pumps and their associated fees. Possibly, the claim value may also include an added admin fee or a overall % admin fee. This is done in pricing condition tables.
Nuts'n'Bolts of the Standalone New Claim Process
Admin then processes the claim, i.e. a claim statement is sent to supplier via email (or a supplier portal).
The hydraulic pump supplier can confirm or acknowledge, - or they can stay mute.
The Warranty System posts the financial Debit Memo against the supplier AP (Accounts Payable) account in SAP FICO (Finance and Controlling).
Claim is finalized. End of process.
The Need for an Advanced Stand-Alone Claims Solution
The 'Out-of-the-Box' SAP Warranty Claims Management solution doesn't support this process very well. SAP ACS Warranty Management provides a more extensive foundation, which while being a fully configured process, still needs to be further developed for each client's unique requirements. This is because, unlike SAP MM and SD, which will support most of the typical requirements out-of-the-box, via configuration settings in the IMG (Implementation Management Guide), (but there are always some developments done within these modules as well), SAP ACS Warranty Management is delivered as essentially a large Lego set.
Many Parts – You Assemble
The SAP ACS Warranty Management Solution comes with many components, which are constantly updated as more customer requirements are recognized and developed for inclusion within the solution. The effect is that you have several 'core' foundational building blocks which can be used with a variety of recipes to deliver a very customer specific solution.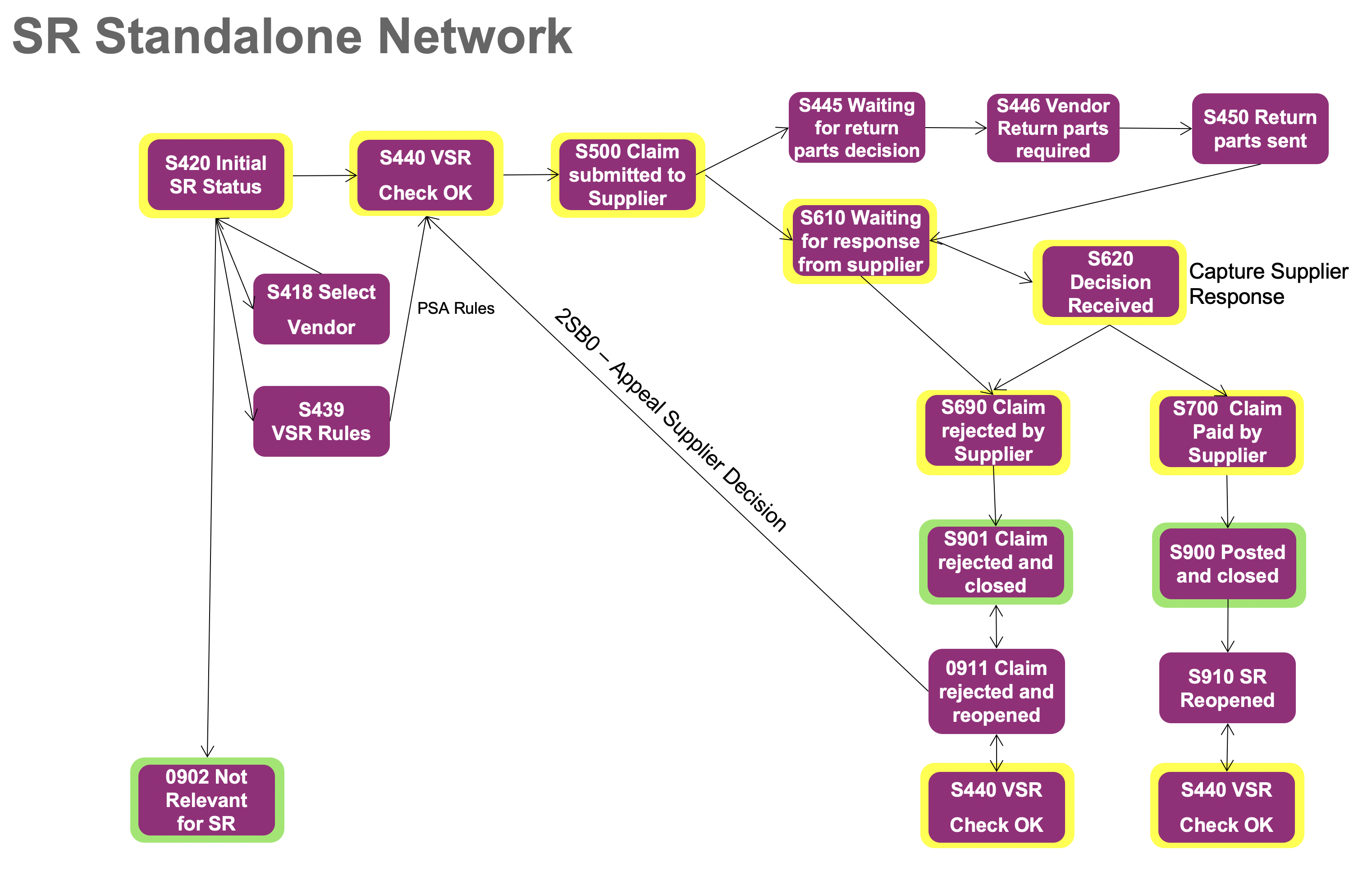 Above diagram explains how the standalone supplier recovery claim status network works.
Build Once – Use as Needed
While many organizations may process thousands of claims daily, this claims process is usually going to be triggered less often. For example, an organization may trigger vendor claims out of weekly cadence meetings.
Warranty Analytics Insights May Trigger the Process
During weekly meetings, operations managers usually discuss and bring up KPIs, - such as quality issues, - that may result in a claim against a supplier. The organization seeks to be in a situation where they have the ability to claim against these issues.
Mature SCM Capabilities Required
In order for this process to work without stirring up a lot of friction, it presupposes a high-level of maturity in the SCM functions in which buyers engage with vendors in a tight relationship in which they:
Draw up contracts

Outline performance characteristics

Define parameters products have to conform to
Product Support Agreements
Many companies call these agreements a PSA – Product Support Agreements. They are composed of a set of highly defined and agreed upon sets of business rules, control features, legal narrative: what each party is entitled to (it is really the vendor-side of entitlement checking). We implement these PSA rules within SAP. The PSA rules are kept in custom tables and read and inserted into the Supplier Claim side. We think it is slick. We've also made sure they can be easily maintained and updated.
How This Solution Provides Benefits to Manufacturers, Customers and Vendors
Benefits


Provides a standardized, formalized process for supplier recovery.

Supplier recovery oftentimes is not pursued by companies to the extent possible, because it is a difficult, time-consuming task, traditionally not well supported by ERP systems.

In SAP we have the SR claim, "Standalone" or not standalone, both are pursued the same way.


Pricing will be accurate, because vendor contract stipulations will/can be made to inform the claim pricing (our enhancements).
For example: is Freight included? Yes or no. If yes, system will include a freight charge, and amount automatically. Preventing freight charges from being forgotten.is a major benefit, especially given the ever-increasing cost freight transportation.


Tie different functional areas together in one document;
thus "…connecting the dots" by collecting data and evidence to make a strong claim case.


By leveraging different functional areas, data on the claim is potentially better and more accurate, avoiding retyping of case files, narrative.

Because you now have a system creating these stand-alone recovery claims, it is much more likely you will use this capability and ultimately improve overall product quality by getting underperforming components out of your inventory.


You are adding any standalone recovery amount that might otherwise not have been charged to the vendor.


We go much deeper into the subject of SAP Supplier Cost recovery processes and capabilities in our Supplier Cost Recovery page.
What Are the Prerequisites for Using This Approach?
SAP ACS Warranty Management and the Standalone Claims Management system require either SAP ECC or SAP S/4 HANA, and have certain prerequisites that must be validated against the PAM (Product Availability Matrix). We will bring in the templated transports with code and configuration to establish the basic framework.
After that, there is a short implementation effort for custom requirements realization.
What Steps Should Customers Take Next?
Detering Consulting is a specialized SAP ACS Warranty Management implementation partner of SAP. While we strive to productize our solutions to reduce both project implementation risk and cost, each customer is unique, and requires a unique solution. Please make an appointment using the button below to book a meeting and discuss how we can implement this solution for you.