For anyone charged with managing SAP service contracts, one of your challenges is likely understanding what constitutes an entitlement within each contract and managing individual entitlements easily and effectively.
Maintaining and managing contracts efficiently in SAP is critical for providing excellence in customer service, generating accurate billings, and maximizing service contract profitability.
If you need a better understanding of what service contract entitlements are and specifically how service contracts can be managed within SAP service contracts, this article is for you.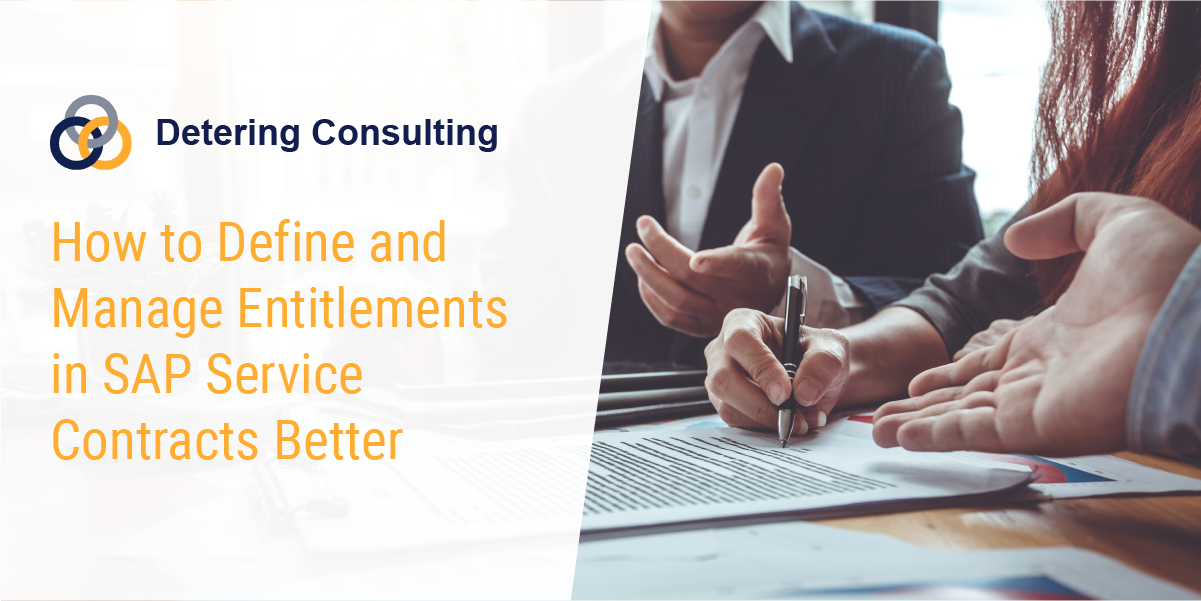 What is an Entitlement?
Service contracts and extended warranties would not be marketable if there were not some benefit to the customer for signing on the bottom line. Your company offers a variety of goods and services to your customers when offering service contracts. Each of these offerings – "entitlements" – constitutes an element of value for the customer:
Regular inspections of equipment sold
Spare parts for equipment
24/7 phone, email, or online chat support
Maintenance, repairs, or updates
Preventive maintenance
Training services
Remote monitoring and troubleshooting
On-site service
Essentially, any support or services that are promised in the contract are entitlements – elements that you agree to deliver within the terms of the contract.
Many contracts include a broad variety of entitlements that could include training, multipoint inspections at certain date or mileage intervals, planned maintenance events, parts replacements, and more.
What are the Challenges in Entitlement Management?
A primary challenge in managing entitlements is how to communicate effectively between sales, service, and customer service regarding all the entitlements that are contained in each contract for every customer. Managed manually or with separate databases or spreadsheets, it would be extremely difficult to ensure that all inspections, recalls, and services are performed on time, every time; and to decide which claim item, service, or part is to be covered by which contract item.
Multiplying all these variations by the number of contracts to be managed presents an incredible challenge for service managers:
Multiple types of products covered – all with different coverage
Components within each of those products that may have different entitlements
Service obligations
Usage-based specifications with extra charges for overages
Time-based entitlements such as frequency of inspections or maintenance plans
Quantity-based entitlements, such as four oil changes or two road-side assistance events.
Failure to live up to contract promises can result in lost revenues, lost customers, and contracts that will not be renewed when the time comes. How can your teams track contract entitlements efficiently and automatically with the many options available in your service contracts?
What is SAP Entitlement Management?
SAP provides functionality for entitlement management. Capabilities include:
Providing service teams and customers with a view of existing entitlements
Generate reminders and alerts for expiring contracts or services due
Identify products and serial numbers assigned to entitlement programs
Retain history of changes and audits
Create entitlement models, allowing simplified creation of new programs
How a SAP Service Contract and Entitlement Management Solution Can Help You
Detering Consulting's SAP service contract management solution takes the pain out of identifying and reacting to every contract promise or warranty obligation on a timely basis.
Our Entitlement Check add-on was developed to provide extended functionality not offered in standard SAP entitlement checking. SAP provides basic functions such as checking warranty dates and contract validity. With a standard solution, it would not be feasible to anticipate the variety of industries, products, and contract terms that may apply to every SAP customer.
Detering Consulting's software becomes an integrated function of your SAP environment, developed with standard SAP methodology, such as:
Can-buy list of parts that can be ordered as spares under this program
Employing your existing product hierarchy to ensure data integrity and accuracy, and to simplify pricing
A priority sequence that is dynamically determined and drives which types of coverage will be tested first.
Implementing Entitlement Check notifies your service department when entitlements such as inspections or covered maintenance are due. This assures the customer that the services they have negotiated under the terms of their contracts will be realized. Service Center is integrated with the dealer portal, a DMS, or web service via iMRO, to receive real-time entitlement check results. These notifications are saved to the associated sales or service order. The result is used for costing and pricing, and to inform the CSR of customer conversation, explaining which items will be covered at no charge under the contract, and which items are still chargeable.
A single contract could include a variety of coverage requirements including parts, labor, training, and others. With Entitlement Check (EC), each itemized element of the contract is identified as those that are covered vs. being a customer responsibility. This ensures your automated billing documents can be produced accurately. The resulting integration eliminates costly billing errors, customer complaints, and avoids the extra process of issuing credits.
Where there may be services or products that are normally covered but must be handled as exceptions – such as accidental customer damage of equipment, authorized personnel can override claims accordingly. This improves billing efficiency and avoids manual corrections or adjustments.
Entitlement Check ("EC"): How It Works for Your Business
EC incorporates a level of functionality not offered by any SAP application to manage service contract entitlement management.
Entitlement Check Example
Claims against a service contract validate the effective date, then execute an entitlement search for the material in question (such as a particular aircraft model, motor, and serial number), then dives deeper to determine if the failing part is included in warranty or coverage code for this component.
Finding that the item is indeed covered, EC provides a price code for calculating the billable amount, which may be discounted to a zero value if the item is fully covered.
EC supports a variety of components and materials in determining coverage:
Service
Spare parts
Recalls and service bulletins
Warranty coverage
Entitlement check performs a sophisticated search for coverage on a particular claim or activity, which can be configured differently for different customers. A priority search could include a hierarchy such as:
Checking for service applicable service bulletins or recalls on materials in question
Searching for manufacturer warranty coverage
Checking for service contract or extended warranty coverage, including returning the applicable coverage code
Considering goodwill-based coverage for the customer
Any match from the priority search will result in automatic coverage for the claim item, still allowing the user to override the coverage if there are unique circumstances that invalidate the coverage. Or vice versa if coverage is not determined, the user can override the coverage to any of the above.
Configuring SAP for Detering Extended Entitlement Checking
At a high level, setting your system up to manage claims efficiently is accomplished through standard SAP methodology.
Identifying the customer as participating in entitlement checking
Set up material values to be used as service bulletins and the actual IM-managed materials that will be applicable for program coverage
Establish programs utilizing the designated customer, vehicle or equipment, materials, and applicable coverage
Materials can be tracked for coverage not only at the material level but by serial number where contracts call for monitoring coverage at that level of detail.
Why You Need Expanded Entitlement Checking
You certainly want to provide the exact level of service provided in your service contracts and extended warranties. Still, you don't want to give away services that the client has not considered in formulating the contract and paid for.
Many businesses utilizing SAP manufacture complex products that in turn require complex service contract solutions. To illustrate: An automobile dealer may provide service contracts or extended warranties to customers, with various options – coverage for parts, labor, number of oil changes, curbside assistance, and more. This could include materials utilized in service or Maintenance Repair Operations (MRO) such as supplies and consumables, or MRO may be billable to the customer.
Each material and labor charge can have unique conditions, discounts, or coverage that applies to the service event. Managing such details manually or on spreadsheets would be:
Time-consuming
Prone to errors on customer charges and billing errors
Counter-productive for service teams who are dealing with customers
Annoying to your customers
This can all be configured and managed automatically with the help of enhanced entitlement checking in your existing SAP environment.
What are the Features of Detering Consulting's Entitlement Check Solution?
Entitlement Checking with our SAP S/4HANA solution provides our clients with a scalable repository for entitlement tracking and discovery with a more comprehensive, end-to-end process than the SAP-provided entitlement checking functionality. This contract repository software supports the contract management processes by providing a place to store and manage contract documents.
Detering Consulting's EC software offers our SAP customers functionality not available with off-the-shelf SAP solutions:
Usage-Based Service Contract Entitlements
Many companies manufacture or support complex products such as industrial equipment or aircraft that require detailed material entitlements such as hours used, metered use, number of takeoffs or landings, vehicle mileage, and many other specifications.
Where SAP does not provide that level of entitlement checking, Detering has built our SAP custom add-on software specifically to handle such business requirements down to the serial number or component levels.
Time-Based Entitlements
You may need to manage service contracts with elements that are based on periodic inspections, preventive maintenance, or other time-sensitive dependencies. Our entitlement check solution provides full functionality to create and track such events.
Notifications
Working with your service contract repository, your service management team and customers can be notified of multiple conditions:
Activities completed
Warnings when an entitlement due date is approaching
Violation alerts when a contracted activity is past due or missed
Other Features
Configurable priority-based search strategy for coverage entitlements
Complete integration with your other SAP applications
Developed with standard SAP methodology
Variables driven by SAP TVARVC values, not hard-coded logic
Customizable analytics that provides a comprehensive review of entitlement performance (in WIP)
Even when compared against SAP's more robust ACS Warranty Solution application, which has a basic service contract check, Detering Consulting's solution provides far more functionality while still providing complete integration with other SAP software, as well as the ACS packaged functionality.
Let Detering Consulting Help You Today
Detering professionals possess decades of in-depth experience with SAP applications. We work with your business users, IT technical teams, and other consultants to implement our software solutions quickly and efficiently, maximizing the return on your investment.
Get a complete review of your entitlement checking requirements and a free demo. Contact us.