How to Do a Product Recall
Product recalls can send a ripple of terror through a company, implicating legal, financial, and safety issues. When handled correctly, a recall can earn a business praise for decisive and effective action.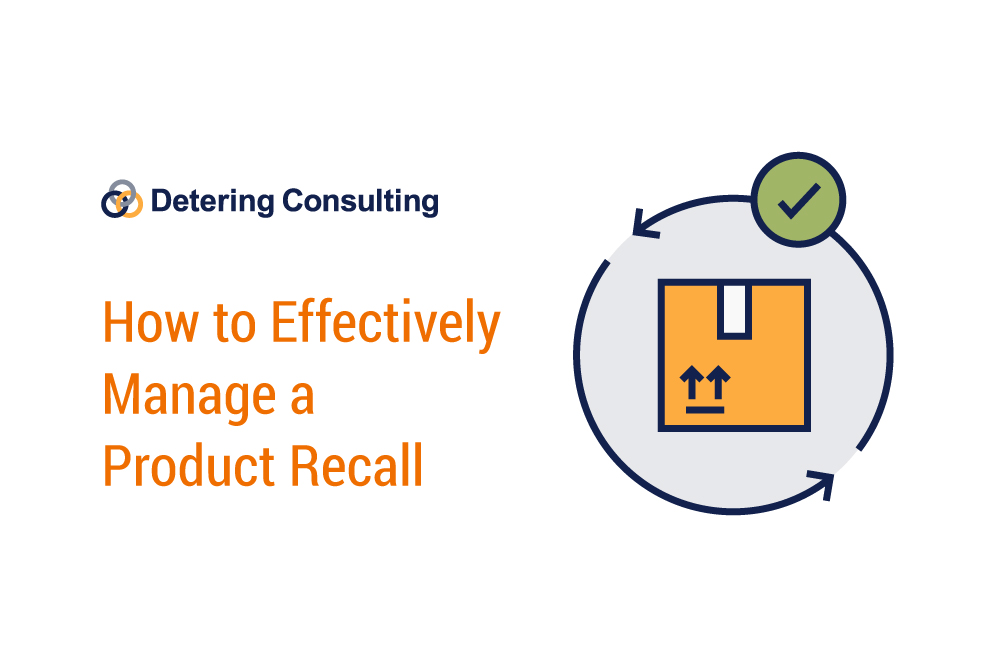 Why Following Best Practices For Product Recall Is Critical
From 2010 to 2019, recalls increased 324% compared to the previous decade, according to NHTSA
However, not knowing how to effectively manage a product recall can have long-lasting effects on the company's reputation and finances. Learn more product recall best practices about managing a product recall and the tools available to help.
An Overview of Your Company's Responsibilities in Managing a Product Recall
Your business will face many responsibilities when managing a product recall, including:
Initiate the Recall
Product recalls are initiated in response to an urgent defect that can only be resolved by taking the product out of the consumer's hands.
What is a Product Recall?
While the causes of product recall are usually related to safety, there have been product recall examples that were caused by other reasons.
For example, in 1995, Intel Corporation recalled nearly one million computer chips that contained a defect that created calculation errors. The Intel recall, however, is generally remembered for its mismanaged product recall process. Intel initially issued replacement chips only to customers who proved they were affected by the defect. Nearly a year after discovering the defect, the company finally relented under pressure from its largest customers and issued a product recall.
A successful product recall example comes from the same year and a similar problem. Intuit Inc.'s TurboTax product during the 1995 tax season contained a programming error that led to miscalculations. Intuit set up a product recall contact center and moved quickly to send replacement discs and letters of apology to customers. The company also made the corrected software available for free online. Intuit has been praised for its response.
Contact Customers
Customers must be contacted so they can return products for service or replacement, usually via a call center or physical mail. There are businesses who specialize in providing product recall services on behalf of other businesses as well. Whichever way it is done, you must complile a list of customers. For example, your business may compile contact lists from:
Product registrations: Online and mail-in cards can be completed by product owners and returned to you.
Direct sales: Your sales database should include product owner information for any sales you fulfilled.
Membership programs: Customer records for membership programs might not identify product owners but will identify a pool of customers to contact during a recall.
Public announcements: Press releases, website notices, and social media posts can reach product owners for whom you lack contact information.
Regulatory notification: Mandatory reporting of unsafe products to the U.S. Consumer Product Safety Commission (CPSC) will get your recall listed on the CPSC's website and social media accounts.
Repair Recalled Products
This step in the product recall procedure entails several engineering tasks including:
Identify the defect: Your engineering staff will need to identify the reason for product malfunctions.
Investigate the defect's source: Design defects are solved differently than manufacturing defects, particularly if your company outsources manufacturing.
Eliminate the defect: Change the product's design or manufacture. If the defect is inherent, you might need to withdraw the product from the market.
Manufacture replacement parts: Manufacture replacement parts using the new design or process.
Conduct recall repairs: Equip service centers with replacement parts and instruct technical staff on repair procedures.
Food Recall Management
If recalled products cannot be repaired, your business may need to offer customers a replacement or refund. For example, you may need to manage food recalls. Frequently, customers who bought recalled food products are usually offered a refund when they return the product to the retailer as part of a food recall solution. Managing food recalls requires food recall management software such as that offered by SAP. If you're faced with such a scenario, our food recall consulting services may be able to help.
3 Tips for Creating a Recall Management Strategy
Recall management strategies will vary depending on many factors, including the type of product, the danger posed by the defect, and the completeness of the owner records. For example, a batch of spinach contaminated with E. coli will be recalled differently than defective automobile airbags.
However, effective recall management services share some common features, including:
1. Preparation for Recalls
Consumer product recall management proceeds more smoothly if your business is prepared. Before a recall becomes necessary, your business should develop a recall policy based on academic research.
'Best Practice' consumer product industry recall services includes having your business prepare by maintaining a database of product and customer information. When a defect is identified, the database will help you identify product serial numbers affected by the defect and customers who own the defective products. SAP, for example, maintains this information in its master database.
2. Decisive Action
Whether your business ultimately recalls its products or handles the defect through warranty repairs, your business must act decisively and document its decision fully in order to avoid the negative impact of product recalls. Shareholders, regulators, and customers will scrutinize your business's actions during any ensuing enforcement action or lawsuit. Delays could be interpreted negatively and may increase any damages or fines.
Weighing the Advantages and Disadvantages of Product Recall
In deciding whether to initiate a product recall, your business leadership must weigh the advantages and disadvantages of a product recall.
Examples of product recall risks include:
Costs: The cost of product recalls includes replacement parts and labor for repairs, as well as publicizing the recall and contacting affected customers.
Financial impact: A recall can negatively affect the stock price of publicly traded companies.
Negative publicity: Product recalls can create a negative image of a business.
Conversely, the benefits of a product recall include:
Risk reduction: A product recall prevents injuries, deaths, and property damage and reduces the risk of lawsuits and fines.
Positive publicity: An effective product recall can highlight your business's commitment to customer safety and product quality.
3. Clear Chain of Command
Because recalls touch legal, financial, engineering, and customer service departments, a customer recall manager acts as the point of contact for different departments. The manager can then coordinate the customer recall management response from the various departments involved and oversee day-to-day activities. Most importantly, a manager with a clear mandate can react quickly as conditions evolve to decide how to effectively manage a product recall.
3 Product Recall Best Practices to Follow
Your business should follow industry best practices in its product recall procedures such as:
No limitations: Improve response rates by leaving product recalls open-ended and minimizing the effort and outlays, like shipping, required from customers.
Collect data: Data about the products returned and services provided can help you accurately assess costs.
Follow-through: Track recall compliance and follow up with customers who have not complied with recall notices.
Effectively Manage a Product Recall Using the Right Tools
In addition to planning and policy development, business leadership can provide a company with tools to help effectively manage a product recall. SAP Automotive Consulting Solutions (ACS) are extensions of, or additions to, the basic batch recall in sap functions in SAP ERP.
How to Manage a Product Recall Using SAP ACS Recall Management
When implemented properly, the SAP ACS Recall Management module can track the progress of a recall and generate recall analysis visualizations. Moreover, the component can link recalls to warranty claims. This allows authorized service providers (ASPs), dealers, and vendors to determine if a product submitted for warranty service is covered by a recall.
Contact us to learn more about using SAP and SAP ACS and how to recall a product using SAP ACS.