Warranty repairs are often viewed by manufacturing businesses as negative. After all, they cost the manufacturer in cash to pay for warranty service and replacement parts. However, warranty repairs also provide information that a manufacturer can use to improve its understanding of its products, its finances, its suppliers and third-party OEMs, and its customers. Learn about using warranty analytics to develop and analyze data to which your business might not otherwise have access.

Warranty claims are submitted with a wealth of information. In addition to customer information and equipment location, the warranty claim will identify the product, the defect, the serial number, and may even include the amount of usage. For example, a warranty claim for a vehicle might include the vehicle model, the vehicle identification number (VIN), the defect – a fuel pump with insufficient pressure, and vehicle mileage.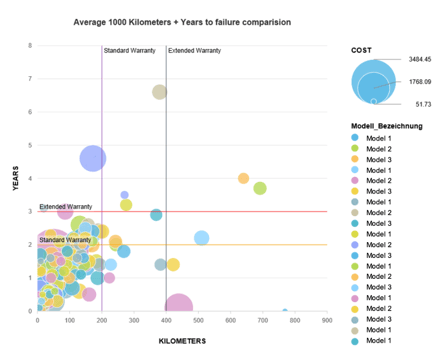 Image: Example of an advanced analytics business intelligence report
For SAP users, the standard software warranty module and SAP ACS Warranty Management upgrade collect this warranty data from authorized service providers (ASPs) and dealers that provide warranty service. Specifically, to receive authorization for warranty repairs, service centers submit warranty claims that are verified and approved by the manufacturer.
This warranty data is needed to approve the warranty claims. For example, a repair claimed under a three-year, 30,000-mile warranty must include the vehicle mileage to ensure that the vehicle is still under warranty. Similarly, the VIN can be used to approve the warranty claim by verifying the sale date. However, this data can also be used with SAP's business analytics module.
Similarly, after the warranty repair is completed, information like warranty costs, labor costs and time, repair turnaround, and customer satisfaction can also be collected. By taking this information, feeding it into an analytical model, and creating data visualizations, a manufacturer can gain a competitive advantage.
4 Warranty Analytics Use Cases You Need to Know
The most obvious use of warranty data is to improve product quality. However, warranty data can also give insight into use – and misuse – of your products, increase product safety, improve repair procedures and reduce repair times, and improve warranty service.
1. Product Quality and Safety
Warranty data provides direct information about how and when your products fail. With this information, you can identify parts and systems that need improvement. Warranty data will even give you insight into what needs to be improved to reduce failure rates and improve customer satisfaction.
For example, warranty analytics may show that your fasteners fail at a higher rate than expected, leading to structural damage. This would lead you to either change the design of the fasteners or alter the manufacturing process used for the fasteners. If you outsource the manufacture of your fasteners, you might have a third option – change fastener suppliers.
Just as important as improving product quality and reducing product failures, warranty analytics may help you to identify a systemic safety problem that may require a product recall to resolve. For example, automotive analytics may reveal that warranty repairs for brakes are unacceptably high and pose a substantial risk of injury, death, and property damage. Based on the high incidence of brake repairs as revealed by the warranty analytics, your business may choose to initiate a product recall to safely repair all brake systems rather than waiting for customers to make warranty claims.
2. Product Use
While product abuse might be excluded from warranty claims, a defect revealed through ordinary use and foreseeable misuse might still be covered. However, warranty analysis of claims for product damage incurred through ordinary use and foreseeable misuse might lead to a few actions by a manufacturer.
Redesign: Redesign the product to prevent the use or misuse that is causing the product failure.
Update warnings and instructions: Providing additional warnings and instructions advising against the damaging use or misuse might reduce warranty claims and reduce your risk for product liability lawsuits.
Change the manufacturing process: The product may be manufactured differently to strengthen it against the damaging use or misuse.
Invent a new product: Add a product to your line that can accommodate the customers' use.
3. Repair Procedures
Warranty analytics might also provide insight into ways your service centers can improve repairs. For example, you might find that a repair for which you budgeted one hour of labor requires three hours of labor. This might lead to an analysis of the repair procedures provided to the service centers. By refining the repair procedure, your business might not only save money on warranty labor but also improve the repairability of the product.
4. Warranty Service
Improving warranty service for you, your service centers, and your customers might improve customer satisfaction and reduce your warranty costs.
Warranty data analysis will tell you which parts are likely to fail. As discussed above, this can help you redesign your products to reduce warranty claims. However, for products already in the field, you can use this information to predict which parts will be needed by service centers. Sending these parts to the service centers in anticipation of warranty claims will help the service centers complete warranty repairs quickly and maintain or improve customer satisfaction with the warranty claim process.
Similarly, you may be able to reduce your warranty costs by predicting which parts are unlikely to fail and minimizing your inventory of those parts.
Warranty analytics can also help you manage suppliers. For example, if the failure rate from one of your automotive OEMs is much lower than your other parts suppliers, you might shift more work to that OEM. This will reduce your warranty costs by lowering the number of warranty claims.
Experience the Business Benefits of Warranty Analytics
Warranty analytics provides unique insight into products that are in service. Analyzing the information from the products that fail shows you how your products hold up over time. Remember, when a product is first submitted for a warranty repair in its third year in service, you can infer that the product did not require repair during the first two years.
Using this information, you can develop a complete picture about your company's products. You will be able to develop a data visualization showing failure rates over time for various systems and parts. This will tell your business what it is doing right and what it is doing wrong with its design and manufacture.
Moreover, warranty analytics can help your business to tailor its warranty policies and product designs based on actual product use rather than engineering theory. When applied to your products, these warranty policies will reveal when a product is truly defective, providing even more warranty data for analysis.
Contact us to learn more about SAP ACS Warranty Management and how it can be used for warranty analytics.