What you ought to know about SAP RMA Returns using Detering's Receiving Workbench (RWB)
Why does the RWB Receiving Workbench exist?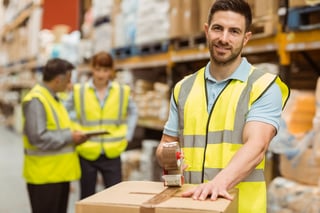 First, let us offer a brief definition of what the RMA acronym means.
SAP RMA Process
The RMA is the Return Material Authorization process, many times used as an acronym for "returns" in general is part of the advanced reverse logistics capabilities of SAP. The RMA process in SAP process is solved via Notifications and RMA Return Orders with their follow-on documents, or via the new ARM - Advanced Returns Management in SAP transaction.
Most OEMs Receive Massive Numbers of Returns Daily
That is why they need to automate the returns process in SAP SD while increasing the efficiency and decreasing the cost of it. The return sales order process in SAP has to work smoothly and effectively for the reverse logistics process to function properly. It is also a key factor in achieving high customer satisfaction ratings and improving a business Net Promoter Score or NPS.
The Existing SAP Solution Has Some White Space
The Receiving Workbench represents a space within the overall RMA solution that has not been developed for which we know the is a need. By developing the Receiving Workbench and filling the gap in the RMA in SAP, our solution helps SAP customers tremendously:
Support multiple return types
Automatic document lookup and creation
Ready for SAP Leonardo Blockchain
Bar-code scanning support
TAT - Turn-around-time calculation and monitoring support
Warranty, contract SLA flowdown
Pre-baked defaults populated automatically by SAP saving operator time
Manage customer delivered additional parts, packaging
Scan Customer Documentation linking to receipt
Solution for Blind Receipt -- part shows up on doc issue
This and many other functionalities and benefits all make up the Detering Consulting RWB Receiving Workbench. If you would like to get an overview of the SAP ERP and RMA RWB solution, press this button