Whether you're selling products, services, or a combination of both, a significant source of revenue can be realized in service after the initial sale. This may take the form of service contracts or extended warranty programs that offer customers value for the long term and retain the relationship with your customer base.
For service managers, IT business leaders, and finance teams, this article can provide insight into how you can plan for and implement a successful program of managing service contracts with SAP.
If your business has not implemented a comprehensive program of warranty and service contract management, you could be leaving considerable potential for expanded earnings, future sales, and customer satisfaction on the table.
Once you recognize the many advantages of implementing programs that apply to your markets, there are seven key factors that you should consider to maximize the return on service contract and extended warranty offerings.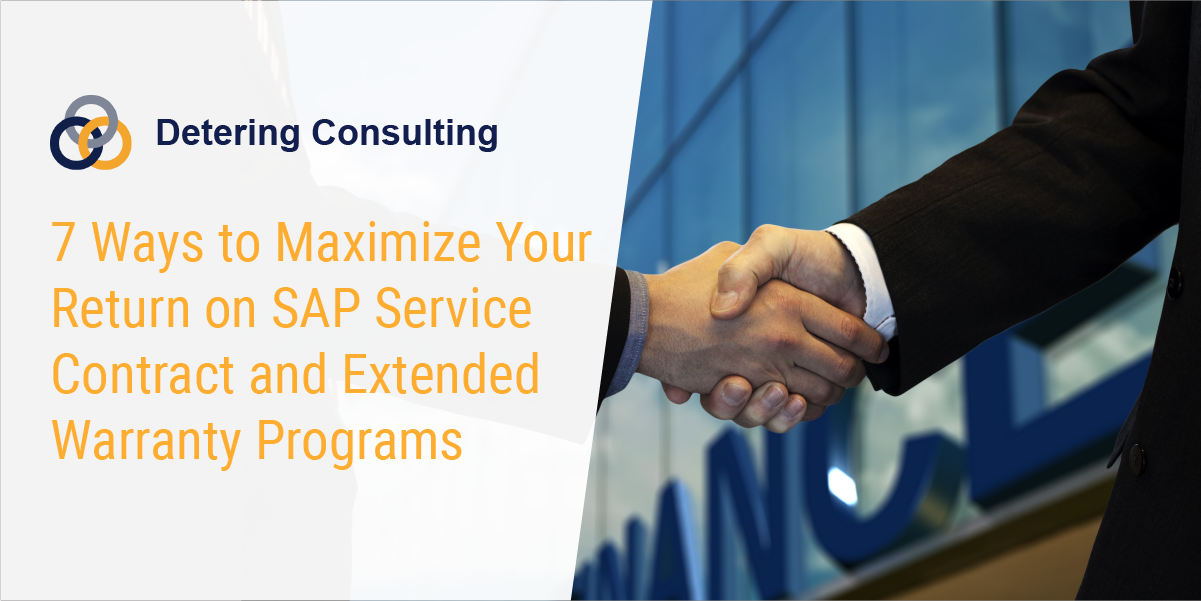 1. Identify Applicable Types of Service Contracts and Warranties
Warranty and service coverage may vary between Business-to-Business (B2B) and Business-to-Consumer (B2C) customers, and not all will apply to every industry:
Break/Fix
This is by far the most common aspect of providing service or warranty coverage. This may include repair or replacement, with varying options such as drop-off replacement, mail-in exchange, or other options depending on the product being covered (automobile warranties would certainly be handled much differently than consumer electronics).
Testing and Calibration
Many products such as manufacturing equipment or industrial electronics require periodic evaluation and recalibration to maximize performance. Such activities are good candidates for inclusion in your service contract program coverage options.
Compliance Requirements
As legislation changes, products such as software applications may need to be modified to retain compliance with local or federal jurisdictions. Addressing this in service contracts ensures your client of future adherence to such mandates, while also providing your company with revenue to cover this expense.
Replacement of Parts and Consumables
Providing customers with parts replacements and consumables adds value to the customer through consistent operation of equipment. Electronic devices such as office printers are prime examples of equipment where such programs are attractive and profitable.
Training
Training in the use of software or equipment is typically offered with the initial sale, but don't lose sight of providing future training under contract for additional customer employees due to company expansion or turnover.
Additional services such as on-site inspections, equipment or software upgrades, and remote monitoring of networks or electronic equipment can be valuable revenue streams as well.
Each of these types of programs offers potential for increasing customer loyalty and a steady stream of revenue for the future.
2. Improve Contract Attach and Renewal Rates with Custom Programs
Many businesses use SAP software applications for ERP, finance, and other functionalities. SAP ECC and S/4HANA lack some of the robust functionality needed to offer businesses a wide variety of contract management capabilities.
Maximize SAP HANA ROI
Creating a complex mix of service contracts that meet conditions such as automobile warranties or computer services requires flexibility and configurable conditions for coverage entitlements and billing accuracy. Getting this right is a key to maximizing SAP HANA ROI.
To provide the level of services required while also generating associated billing and accounting entries automatically, multiple approaches for service contracts must be considered:
Standard "templates" for basic service contracts – not very flexible or customizable
Manually created custom contracts for each customer – great for flexibility, very difficult to manage
Parameter-driven contracts – can be tailored for requirements yet created within your S/4HANA environment and offers flexibility, customization, automated accounting entries, and accurate billing documents
Service contracts that are easily understood with accurate invoicing help your business increase renewal rates. B2B services are more likely to implement customized programs than consumer-focused enterprises.
Attach rates are measured as the % of service contracts or warranties signed at the time of the initial sale of your product or service. Research holds that a 5% increase in attach rates equates to a 9% boost in service revenue. Giving your sales teams the tools they need to configure, price, and quote (CPQ) can be done much more efficiently and accurately with software tailored to address these business requirements.
Many businesses are using disparate software – even spreadsheets – to perform CPQ functions, which often results in errors due to outdated material costs, changes in terms, and incomplete entitlement information (more on entitlements later).
3. Don't Underestimate the Importance of Billing Processes
Your customers want contracts that are easily understood and address their anticipated needs for your services. But once the contract is signed and the terms are in effect, there are two critical factors:
Do You Live Up to the Terms of the Agreement?
This includes service level agreements, prompt reaction to calls for service, personal customer service, etc.
Are Customers Being Billed Correctly?
None of your customers want surprises in their billings. Accuracy and transparency are critical for retaining customers and renewals when the expiration period arrives.
SAP billing processes can be complicated – even requiring manual preparation for custom contracts. Implementing an integrated solution that, for example, ties your existing product hierarchy to a service contract quote in pricing ensures that codes, materials, and costs used in preparing proposals use current and correct data.
Financial departments will want to ensure that billing revenue is being reported in accordance with GAAP rules. Earnings are often not realized in the same accounting period in which they occurred, making such flexibility important in your SAP billing solution. In such a case, i.e. revenue needs to be recognized differently than for the billing period and billing amount, many companies deploy SAP's new Revenue Recognition module called RAR. Stay tuned for our new blog on RAR and service contracts.
4. Measure KPIs
How do you know if your sales goals for SAP service contract and warranty management are being realized? Set the following key performance indicators (KPIs) that apply to service contract management and how they will be generated and measured:
Attach and Renewal Rates
Track not only the percentage of these important factors, but also determine whether renewals result in up-sell opportunities and if these became additional revenue. Sales teams need to be aware of potential opportunities to increase services as renewals approach, offering add-ons that include expanding on-site service, additional equipment coverage, remote monitoring, inspections, and other services.
Notifications
When were notifications made to the customer for renewals? Did they result in contract extension or renewals? Were new services added? How many notifications took place before closing the sale?
Entitlements
Did you hold up your commitment to the customer for entitlements? If not, what caused the failure to meet these expectations? Did this result in customer complaints or reimbursements?
Profit (and Loss)
Did the contract provide income or result in a loss? Especially where a loss is incurred, it's critical to dig deeper to determine the cause – incorrect pricing, equipment or component failures that resulted in multiple replacements or on-site service calls, etc. Some KPIs are difficult to report down to the contract and contract item level, unless the SAP solution is already designed with that KPI in mind. Case in point is contract item – meaning coverage – level profitability: It is critical that your service contract management system automatically assigns a cost to the contract item correctly and reliably. Giving business leaders confidence that this specific KPI is not only determined correctly, but that other KPIs that build on it are also correct.
5. Meet the Customer's Entitlement Expectations
Would you renew a contract that your provider did not live up to during the terms of your last agreement? Not likely.
Contract terms and conditions must be very specific so that both parties clearly understand every entitlement. The resolution process should also be defined to address disputes or deviations from the terms specified in the contract.
Entitlements can take many forms within your service contract or warranty:
Products or services are covered by the terms of the contract, including components
On-site services to be provided including preventative maintenance, inspections, and calibrations
Spare parts to be provided by a service technician or on the customer site
Supplies to be provided
Training and consulting services to be offered, including place of training and trainer credentials
Service level agreements, such as
time to repair or replace
time for technician arrival
response time window, etc.
Each of these entitlements should include any details such as same-day service, next-day, next business day, etc. Costs and special charges that may apply must also be documented.
6. Communicate Often
Establishing an effective line of communication with the group responsible for managing service contracts at your customer's business will facilitate renewal rates and help in resolving any disputes that arise during the terms of the contract.
There are many occasions where communications can be an asset to your customer relationship:
Contract Expiration
Automated mailings to the customer thanking them for their business and notifying them of the pending expiration should be generated in advance, along with simplified methods for contract renewal:
QR code on the communication to access your service website for renewing online
Include online chat capability to discuss renewal options with a qualified employee
Contact information to discuss the contract terms, providing you with the ability to upsell additional coverage or extend for a longer contract period
Service Performed
When service is performed under the contract, send a thank you note for their business, stating the amount the customer saved due to their existing coverage. In cases where the contract did not cover the expense, this is your opportunity to alert the customer how they could have saved money by considering a service contract.
Continuous communication with your contract holders is key. Experience has shown that renewal rates are higher when customers are notified in advance of the renewal date.
7. Make Pricing and Negotiations Easier
Especially with B2B contracts, negotiations are common when determining contract pricing. Factors may include the volume of revenue realized from the customer, price of parts covered, labor costs for technical service representatives, customer location, and much more.
Sales representatives who are empowered to offer customers negotiated prices at the time of initial sales have greater potential for closing the sale of the extended warranty or service contract (attach rate).
Make it easier for sales reps to generate service revenue by providing mobile devices that connect with SAP service contract management for visibility to contract options, entitlements, equipment coverage, and pricing.
Simplify the buying process by offering payment by credit card, PayPal, or other electronic payment services.
B2C customers are somewhat less likely to expect that warranty coverage or service agreement pricing is negotiable due to the standardization of products and sales volumes. However, during COVID-19, we have seen service providers offer incentives, such as deep discounts at the time of contract cancellation by the user online, via chat or call center. Flexibility and empathy in difficult times will be appreciated by consumers.
Detering Consulting Simplifies SAP Service Contract Management
Do you need help implementing or improving your service contract solution with S/4HANA?
Detering Consulting and our Billing Workbench (BWB) can streamline your contract management and billing cycles with accelerated CPQ processes and is completely built in SAP.