SAP provides a robust suite of applications that provide business value for companies large and small. For SAP users that offer service contracts or extended warranties to customers though, SAP's standard offering is somewhat limited and inflexible.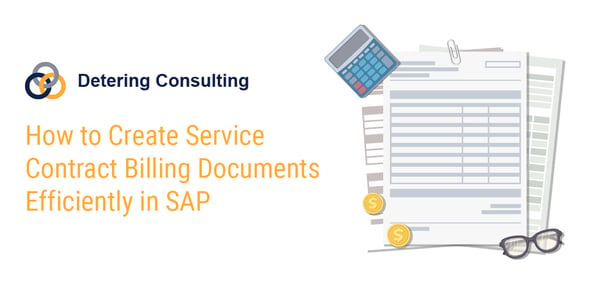 If your business intends to implement service contracts for business clients or consumers, or if you already have such programs, this article is for you. For program marketing teams, CIOs, and finance, read on to discover a better way to create, manage, and bill service contracts with an integrated SAP solution.
Service contract management and extended warranty programs are critical elements of doing business for several reasons:
Revenue generation – When implemented effectively, service agreement programs offer a steady and renewable source of income for your organization.
Customer relationship management – Providing service and maintenance for your products – or third-party products – builds brand identity for your company. This results in opportunities for future sales and additional service contracts.
Analytics – Identifying profitability (or lack of) and opportunities for additional service contract and warranty programs. Get answers to your business questions through data, KPI and metrics, visualization.
It's essential to recognize that accuracy and visibility are key attributes of any successful program. Consumers and businesses can quickly lose confidence in service partners who cannot easily explain the details of service contract invoices.
Providing accurate and detailed billing documents is essential when working with customers and managers who purchase extended warranty and service contract programs for their companies.
Why Billing Document Accuracy Drives Profitability
Internal use of your SAP billing documents is just as important as how your customers view their invoices. Reconciling invoices and financial entries in SAP can be an accounting nightmare for some businesses. Posting GL entries to the wrong accounts or failure to split and distribute financial entries properly can consume a great deal of time for financial analysts or accounting staff.
Like most companies, your business is likely utilizing several billing documents in conducting business. SAP Sales and Distribution provides a variety of order types and billing documents to satisfy different business functions. Creating billing documents from multiple sources can generate potential for errors and omissions in billing.
Adding administrative resources to manage billing errors or incorrect accounting entries has two negative effects:
Customer discontent – When customers must continually contact a service provider with billing issues or questions, they lose confidence in the provider quickly. This may be a significant consideration when considering contract renewal or adding additional coverage.
Cost – The time spent tracking down and correcting billing errors or financial entries is an expensive internal cost, reducing the profitability of the service contract program and introduces doubts in analytics (e.g. KPI reporting) .
Marketing teams work hard to create and promote attractive service contract programs, your sales force put just as much effort into making the sale with customers, and your billing specialists make sure correct billing documents and fair true-ups get invoiced to your customers. Spending a great deal of time writing apologetic letters to customers for billing errors or contract misunderstandings is counterproductive for both departments.
All these factors detract from customer satisfaction, increase operating costs, and reduce the opportunity for future sales of service contracts and extended warranties.
Happily, sophisticated fully integrated software is available that focuses on these very issues while also providing a new level of SAP contract management and billing functionality, benefiting both your business and your customers.
Importance of Creating SAP Service Contract Billing Documents Correctly
It's a matter of competition – if you cannot provide the best service and bill the customer correctly, they may turn to a competitor who does it better. Your customers don't want to spend their time analyzing invoices any more than your marketing or financial teams do.
Challenges of Implementing Service Contract Management
SAP provides an extremely robust set of business tools for managing your business. Still, there are gaps pertaining to service contract billing and administration that may hinder your efficient management of those programs. S/4HANA service contract management does not provide the flexibility and financial control requirements needed by many businesses, especially when it comes to usage-based billing in SAP ECC and S/4Hana.
Many businesses turn to managing service contracts through bolt-on products or even resorting to the use of spreadsheets or external systems outside of SAP. Adopting this solution often results in creating financial entries manually. There are significant challenges in both approaches:
Master Data Accuracy
When disparate systems are implemented, keeping them synchronized can present significant issues. Product or material numbers may not be updated in each system on a timely basis, or workflow may not ensure that identical values are maintained across platforms.
Costs and other data may vary from one system to another, making reconciliation difficult and creating variations between contracts and resulting billing documents.
Interfaces Are Not Perfect
Communication issues, data variations, or unexpected content can cause interfaces to fail or process data improperly – or not at all. This can cause delays in updating financial systems from external service contract management systems and may result in posting errors.
Business Requirements
Does the system you're considering truly meet the needs of your business and your customers – now and for the future? Our SAP service contract management solution will support your service contract and extended warranty program needs.
Managing these programs can be a complex undertaking, with many factors involved in creating, monitoring, and billing for services accurately. Automating warranty management with totally integrated SAP contract management software provides enhanced control and flexibility.
Service Contract Management from Detering Consulting
Service Contract Management Lifecycle
Detering Consulting provides a robust service contract management solution that is totally integrated with your SAP ERP environment. Interfaces are eliminated through utilizing standard SAP technology and employing SAP functionality cleverly – such as the use of can-buy lists which in turn leverage your company's established product hierarchy.
Extended warranty programs and contract billings are generated consistently, quickly, and accurately. Thousands of billing documents can be created automatically, or semi-automatically easily monitored through the BWB workbench within seconds. Pricing caters to your pricing procedural steps and financial entries are created through standard SAP functionality, such as user-defined condition records.
Features of Detering Consulting Service Contract Billing Solutions
Every department of your business involved with service contracts and warranty programs will benefit from the technology and features inherent in our integrated add-on billing solution for SAP.
Marketing – the structure and features available for managing contracts and servicing customers offer sales teams new options for selling coverage to clients. Usage-based contracts far exceed the limitations of native SAP offerings.
Finance – accounting and finance will benefit from reliable and consistent GL entries to the correct accounts, and in the correct amounts. Predictable results eliminate manual corrections.
IT – integrated functionality removes the need for maintaining multiple disparate systems and managing multiple interfaces between them. Detering applications are highly customizable, with options driven by SAP-standard TVAR entries as opposed to custom code that is time-consuming – and expensive – to maintain.
Corporate management – consistent data and analytical tools provide management with accurate, consistent data that provides reliable performance information for cost and profitability.
Your service contract management lifecycle should include flexibility and customizing capabilities that meet changing business needs and provide for growth.
Usage-Based Service Contract Management
Detering service contract management goes far beyond basic SAP functionality, providing your company with the ability to offer contracts based on performance and usage.
While basic warranties simply cover products and effectivity dates, Detering clients take management to the next level with detailed monitoring and reporting based on usage:
Base coverage on essentially anything that can be measured – equipment startups/stops, run time, equipment cycles, etc.
Billing documents are generated on the terms of the contract but based on actual usage to ensure accuracy and no missed revenue. If usage exceeds contract terms, additional charges can be generated as provided for in the contract. Billing documents will be accurate and will provide details for the customer – no questions or surprises, no accounting reconciliations, and no manual action required.
Example of How Usage-based Billing Works
Usage analysis is run to determine actual hours utilized (usage since the last billing)
Customer's program information is matched against usage to evaluate any exceptions to covered usage (based on terms of the contract such as monthly/quarterly billing cycles)
Billing is then generated from actual usage vs. contract terms – automatically and accurately
Programs can be tailored specifically with conditions such as minimum annual usage, even providing a material to be utilized on the contract for excess usage that will be applied to the billing annually.
Terms can also be established that provide for a minimum billing regardless of usage.
Need to accommodate control of currency for domestic vs. international invoices? We can handle that requirement, too.
Warranty Management is a Corporate Asset
Implementing a sophisticated application to manage service contracts and extended warranties can reveal a wealth of information for cost control and future revenue potential:
Determine where expenses exceed the revenue generated from programs
Uncover untapped income from products that are requiring higher service or maintenance costs
Identify the true cost of warranty claims for every service contract, model, and part material
Measure the actual profitability of every extended warranty contract
Implementing a contract management application that is integrated with your established SAP application data is critical to providing accurate billing information and reliable profit and loss data.
Introducing the Billing Workbench
The Billing Workbench (BWB) is Detering's add-on to your SAP functionality that provides a user-friendly interface to manage specific business needs. Handling service contract requirements such as performance-based criteria and special tiered pricing options are greatly simplified using the BWB.
Customizing features that allow your users to tailor reporting to your business needs make the BWB an integral component of your billing process. Choose the data you want on your reports, the order they're presented, and even the terminology used for headings.
Managing your service contracts and extended warranty coverage throughout every program's lifecycle with contract status that drives special processing such as close-out action. Detering's Billing Workbench (BWB) provides the capability to post to different GL accounts based on contract options.
Entitlement management is key to profitability from warranty and service programs. Your business and customers need a clear understanding of what is covered by contracts, at what cost, and under what conditions.
BWB provides the basis for dealing with customer service and warranty claims, to ensure customers get the services they deserve, and your business realizes the revenue you contracted for. By referring to the BWB, your customer service representative can identify eligibility for a service or warranty claim quickly, determining whether a request is covered or billable efficiently. This entitlement check functionality is easily integrated into your call center or MRO service operational system. Entitlement check returns coverage codes to enable automatic consideration of warranty, service contract, recall, service bulletin, or other coverage.
BWB empowers your service team to add value with:
Flexibility to add appropriate charges when applicable
Accuracy that reduces manual corrections and avoids billing disputes
Increased cash flow by generating all invoices on time, automatically, and correctly, facilitating faster payment
Automatic entitlement checking
Why Turn to Detering Consulting?
Detering Consulting teams have combined decades of experience with core SAP functionality and technology. Our warranty and service contract management solutions are built on solid knowledge of SAP and business requirements for managing such programs successfully and profitably.
Detering can review your business requirements and provide answers to all your questions about our service contract billing solution. We make clients successful with our off-the-shelf software offering and implementation services:
BWB can be installed and available in conference room pilot (CRP) mode in as few as 10-14 days. This offers your teams a full evaluation of the benefits and deliverables the product provides.
Detering teams work with your internal resources, your consulting partners, big-5 firms, or SAP support resources to provide a seamless and efficient implementation of our BWB functionality.
Contact us today for more information or to request a demo.