Why Serial Numbers?
By knowing your SAP serial number status using serial number management in SAP MM - Materials Management - and CS - Customer Service and other related SAP modules, great efficiencies can be realized in all industries that require serialization. Here are some issues and common requirements across industries, and ideas on how to unlock some benefits. Benefits you can easily achieve if your organization uses SAP ECC or S/4HANA.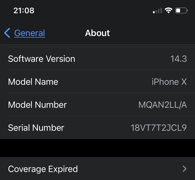 Image: Example Unique Serial Number - iPhone's Warranty/AppleCare Coverage Status
What are some of the problems with managing Equipment Serial Numbers and the benefits of solving them:
1. Cradle to Grave Product Lifecycle Tracking
Each serial number has its own life-cycle, comes to life in either manufacturing or procurement or conversion. Most people benefit greatly from knowing about their serial numbers:
With Serialized Equipment, you know where each piece of equipment is located

At the warehouse
En-route during shipping
At a customer site
In repair

Serial number's service history, what has been done to service it in the past, what kind of calls were received by owner or operator
What the warranty status is
Service plan, contract, or "program" coverage
When a customer calls the service hot-line with their serial number, the customer service representative will look up the serial number status in SAP which indicates whether that s/n is under warranty or not and what type of service is covered for that part and customer. Is it under warranty or contract? By maintaining serial number history, SAP can help to know what product service is covered and what can be offered as an up-charge?
For example, "Repair" is covered and customer can pay up for other services, such as 24-hour spare part shipping window versus the usual 3 business days. Or, they can buy an extended warranty contract during the call with the agent, to gain access to premium services.
RMA,- Return Material Authorizations, are easier said than done. Whether the issue occurred after order taking, while the unit is being picked and packed, during shipping, immediately after receipt, DOA, issues with the material, or at a later time: Make the customer whole and a happy customer is your best business objective.

Think about Amazon Returns - does Amazon record serial numbers? Amazon usually only records serial numbers for larger valuable items they have total control over, sell and ship themselves, and items of very high value. That's why 3rd party sellers normally perform their own fulfillment if what they sell should have a serial number applied at the time of shipping, which allows them to apply the s/n during the sale and shipping, thus record and track serial numbers.
Industry trend: Service contract management can improve RMA service options for customers, key to improved excellent customer service perception and favorable online reviews.
4. Each Serial Record is Also an Equipment Record
"In SAP, each serial number record is automatically expanded to an equipment record."
This concept is key to everything.
The equipment record is where a lot of the serial specific data lives. The equipment record has a system-wide unique ID, the Equipment Number. The equipment number is tied to the material and serial number combination. This is a great concept to leverage within your company.

For some manufacturers, a given serial number is unique and sufficient to identify a unique part.
In other cases, the same serial number may exist between two or more parts. In these situations, the part and serial number combination will yield the unique serial number record. In addition to that, the equipment number, which can be thought of as a company internal record locator ID, is surprisingly useful:
Equipment Numbers Improve Technician and Service Center Productivity
The equipment number can be utilized as that one, corporate-wide ID. One ID to rule them all 😂. That one ID will select the unique record instantly. 100% match. Always. All the time. This is super important. Folks take advantage of SAP's best kept secret of the SAP PM (Plant Maintenance) or CS module. How?
Simple.
By printing the equipment number on the equipment tag in combination with all the usual data: Such as corporation / manufacturer name, address, phone number, material, serial number, country of origin, certain disclaimers, instructions, etc.
Bar Codes and RFID
Ideally, you can print the equipment number on the serial tag and also print the equipment number as a bar code. Or embedd the equipment number inside the bar-code data page.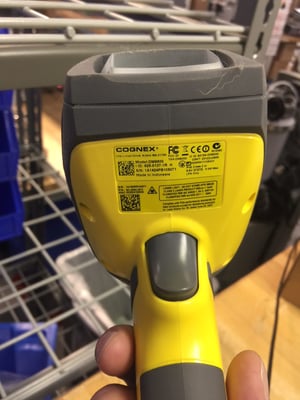 Image: Example Product Tag - Cognex Barcode Scanner - Note 2D Barcodes
Although 2D bar codes require image processing software, typically integrated to the bar code scanner, they are superior to simple barcodes because they have many traceability advantages, and read-error recognition capability. 2D codes assist in tracking for example automotive parts during manufacturing and through aftermarket service. In Aerospace and Medical industries serial number tracking is done for decades. With SAP, you can employ the same concepts in your industry with a relatively low barrier of entry.
Users Access via SAP Fiori and SAP Portals
By employing that simple hack, using the equipment number as the key record locator, you are enabling reliable serial number look up by anyone with access to the equipment database. Access by way of using SAP apps, mobile apps, SAP Fiori integrated in your Customer Service Portal. Fiori works across all device types.
Since the lookup is by bar-code, is by equipment ID, and as we said, the equpment ID is corporate-wide unique, the SAP system will reliably produce an accurate result. Thus supporting the service technician in her daily job, immediately contributing to an efficient customer service process and to the bottom line.
The same concept applies to RFID tags: You can integrate the equipment ID into the RFID - Radio Frequency ID tag data pages.
In summary, instead of searching by serial number,- which might not yield a unique result, more and more service organizations embrace the equipment number ID to simplify record identification and service processes.
One small step in your SAP program, a giant improvement for your service organization in support of successfully completing field service issues, increasing your FCR - First Call Resolution - KPI.
5. Equipment Data Examples
So far so good. But why is this such a big deal?
Well, equipment records can hold quite a lot of useful company and customer data. Data, that is extremely useful for
Efficiently solving future service calls

Aftermarket service contract sales

Negotiating service contract renewals

Software upgrades

360° visibility of the customer data and installed base

Selecting the right spare parts

Offering product replacement or product upgrades

Dynamic pricing of product, spares, and services

Helping integrate 3rd party service providers in your service network
Equipment Data Examples:
Key Dates

Equipment Start-up Date

Installation Date

Delivery Date (via the delivery)

Manufactured Date

Any of these dates can be configured to be used as warranty start date

End-User Address, Phone Numbers, Emails, Social handles, etc.

Current location of the unit

in our inventory

in transit

at a distribution center

at the customer

Status information such as

System Status such as created, at a customer, marked for deletion, on a delivery, etc.

Custom Status such as default, s

crapped, part of an audit, tagged for some other purpose

the beauty of SAP status management is that each status can control a number of things, for example, whether an equipment serial can be serviced, is blocked for this or that type of transaction. Most all of SAP standard transaction types are covered, programmed out by SAP already. If a specific behavior is not already designed by SAP, it is pretty easy to add, because the framework is already there

Partner records,- who are the partners are known by SAP. Example partners:

The customer account number, aka Sold-to

Ship-to, Bill-to, Payer

Insurance or Banking Partner, owner of a Title

Contact partner at the customer

Contact partner internally, part of sales or service organization

In S/4Hana, show all Business Partners records associated with the equipment serial number

Partner records are very useful

Measurement Points, leading to Measurement or Counter Readings

Measurement points is another powerful concept in SAP that is integrated with Warranty Management. For example, odometer km or mileage readings can be recorded systematically against the vehicle, aircraft, truck, etc. And next be used to compare to the warranty limits. E.g. a 5-Year/100,000 miles warranty can be set up as a warranty policy against a number of serial numbers. And will automatically check against the dates and mileage on the equipment.

Equipment classification to capture customer specific data and configuration, albeit structured

Warranty start and end dates, or m

aster warranties. If master warranties are used, the warranty start date in combination with the master warranty will determine the warranty end date automatically and reliably. No more guess-work.

Lists of business transactions that occurred for this serial number, the serial number history, are only one click away.

Serial history listing includes:

Service tickets, service calls, service orders, sales orders, quality notifications, shipment, material movements, warranty claims, etc.
Some of this is self-evident, albeit the data model behind all this,- and how these concepts and structures are then used within the application, is complex. That is where SAP integration comes to fruition, if configured and applied correctly. This is a big if and there are plenty of struggling organizations to make optimal use of all these SAP Customer Service functionalities, say in the context of service contracts, or warranty claims management, or IoT driven usage type billing.
To the practitioner, all of the above is a given. Is a standard requirement.
Untapped improvements can be realized in Serialization. This is huge!
6. Serial Number Naming Standards
S/N width and S/N template itself is an important discussion:

How wide are your serial numbers?
What do existing serial numbers look like, what are your current ID standards, naming rules?
Does everyone in your organization know how to read serial numbers?
How about your customers and partners?
Current and future naming standards are important in maintaining your SAP serial number history. This allows a serial number to be a 'speaking' serial number, meaning, you can track changes all the way back to the beginning of the part's existence. What are the recommendations in SAP with regards to Serial Number design and are you following them? Are there industry naming conventions you must follow. Are they Milspec (Military Specification) or Automotive Industry compliant?
For example, the VIN number standard is a serial number standard.
When a vehicle leaves the industry, it is identified by a 17-character number (Vehicle Identification Number, VIN) which is on its title, and referred to in all official documentation, such as the registration, insurance, smog checks, notifications of government agencies, etc. Various components of the vehicle are also serialized, during its assembly: a standard serial number makes each major vehicle part unique and traceable.
Engine or Electric Motors

EVB - Electric Vehicle Batteries

Wheels
Shock absorbers
Chassis
Nameplates
Transmissions
7. Integrating with Other Functions
Often times, for example, in Aerospace and Defense, part and serial numbers are controlled via engineering orders (USAF calls it TCTO or Time Compliance Technical Orders) which requires that we do something to the item in question. Which in turn, makes it a new part or serial number.
And your rules around S/N management may differ between organizations; business rules can be set up that way in SAP.
Serial number management integration areas that come to mind include:
Engineering Change Management
Document Management
Inventory Management, Supply Chain
MDM
Procurement, POs (Purchase Orders), Receiving – goods-receiving of serial numbered equipment

If s/n recording at time of GR is not an option (may be buried on a palette or too many) there are other ways to create s/n

Sales, and, Service
Analytics and insights to better understand how your products are used at customers and partners, and to answer questions
If you'd like to read more about SAP Serial Number Management and how to create serial numbers in SAP ECC or SAP S/4HANA, click the button below to download our free SAP Serial Number PDF presentation document.
Thank you for your interest reading my blog. Feel free to connect on LinkedIn, or visit our site on Facebook. Also, feel free to
book a meeting
with us to discuss your serialization requirements.