Hospitals and other medical institutions rely heavily on technical and very complex devices for diagnosis, treatment, and monitoring patients in their facilities. As a medical equipment manufacturer, you must maintain an understanding of the needs of healthcare professionals:
What their concerns are when purchasing equipment from a service contract viewpoint
What details to cover in a medical equipment service contract
Common problems with many medical equipment service contracts
Read on to find out how to create more effective service contracts for your medical equipment product line: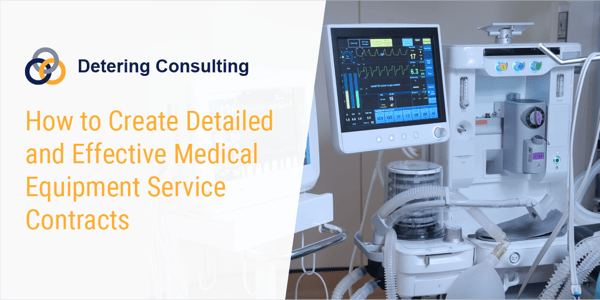 What are the Common Concerns in Healthcare Operations?
As manufacturers of complex medical equipment, you certainly have reliability and functionality for patient care at the top of your list of priorities. Providing the level of service, updates, and maintenance that medical teams and their patients deserve requires attention to every aspect of the healthcare business. This includes:
Availability of quality medical equipment
Upgrades that improve equipment functions and add features
Prompt service for failures or preventive maintenance
Controlling costs and generating financial reports
Compliance with regulatory concerns such as HIPAA
SAP provides manufacturers with sophisticated tools for managing production, supply chain functions, financial applications, order processing, and service. Creating and managing service contracts after the sale presents its own set of requirements for manufacturers.
The management of medical equipment service contracts plays an important role in ensuring that technical equipment is available and operable when needed by your customers.
What to Always Include in Healthcare Equipment Maintenance Contracts
Healthcare equipment manufacturers certainly want to provide the most reliable and technically advanced equipment available while also remaining competitive in the market. For medical institutions though, on-going operations, long-term availability, and reliability are just as important as the original investment. Much of this equipment requires a significant capital investment, so long-term return use is a major consideration in their purchases.
Making sure the equipment you provide is functioning normally at all times requires effectively structuring service and maintenance contracts. Providing your customers with confidence and peace of mind in your ability to offer quality services must address several factors:
Price
Initial equipment cost is only part of the total expense of medical equipment. When negotiating healthcare equipment purchases, stress the value of your service agreement offerings – including all entitlements, such as on-site and depot-repair service, replacement, calibration, software and mechanical upgrades, etc.
Timing
Market your service contract value and pricing at the time of equipment purchase. Communicate that waiting until the end of a warranty to obtain pricing may result in a significantly higher price – even twice as costly. When contracts come up for renewal, advise your customers as far in advance as possible, even several months ahead of the expiration of the existing contract. This provides more opportunities for closing the contract extension.
Coverage
Clarify any questions related to what is covered by your maintenance contract: parts and labor, repair only, preventive maintenance (PM) only, or other options. This will ensure that your customers have the coverage that they truly need and expect.
If your equipment warranty or service contract coverage is invalidated if other parties such as non-OEM service technicians make repairs or use non-OEM parts, be certain that your customers understand it.
Additionally, the Center for Medicare & Medicaid Services (CMS) specifies that hospitals with Joint Commission accreditation must follow manufacturers' PM recommendations in a precise manner for certain types of equipment including imaging equipment and medical lasers. Make sure your customers are aware of any such mandates that may apply to them. This could provide an incentive to purchase or renew maintenance contracts.
Service Needs
Providing 24/7 coverage for your equipment may generate the most revenue, but will also increase your costs. Consider both aspects of the level of service offered when making the proposal and pricing your service contracts.
Some items such as imaging equipment may not be scheduled for use daily. There could also be multiple machines at a given location, providing additional time for service when needed on one piece of equipment. You may be able to reduce the number of service calls by scheduling maintenance on more than one machine on a single call, saving operational expense.
Additional Options
Establish set pricing for any services not covered by a maintenance contract. This would include labor rates (including after-hours service), travel costs, etc. Where penalties are agreed-upon for any failures to perform covered services, be sure the conditions and amounts are in writing. Equipment maintenance contracts give your customers legal rights and recovery options. Communicate those terms to technicians, making them aware of any incentives to perform as agreed under the contract.
Time and Material Service may be a viable alternative for some medical equipment but be certain your customers see all rates. This could make maintenance contracts more attractive.
Managing Your Medical Equipment Service Contracts
Now that you've established effective service contracts with your customers, how do you manage the wide variety of contracts, equipment covered, and entitlements?
SAP service contract management and Entitlement Checking (EC) provides a high level of functionality that can help you manage contracts, service performance, and contract entitlements.
Service contracts can address a great variety of options for coverage and entitlements:
Equipment Details
You may sell a wide range of medical equipment from beds and monitors to ventilators and imaging equipment. Products can be tracked down to individual serial numbers and components of the devices.
Coverage Details
You can include 24/7 coverage, replacement, on-site repair, equipment or software upgrades, calibration, preventive maintenance, and more in the coverage details for each applicable unit covered by the service contract. Be certain to include all contract specifications – overtime rates, travel, training, replacement parts, etc. Be sure all customer entitlements are in writing.
Termination and Renewal
Many manufacturers incorporate termination fees in service contracts. Especially for long-term contracts, terminations reduce profitability, so set applicable fees accordingly. Auto-renewal clauses can save administrative costs and avoid disruptions in service to your customers.
Alerts
As contracts approach termination dates, your contract management team can be notified to begin negotiations for new agreements or renewal of contracts. If entitlements are due or missed, management can be made aware so that the proper actions can be taken to correct the problems.
Revenue Recognition
Service Contracts may be subject to revenue recognition rules – see our blog "A Comprehensive Guide to SAP S/4HANA Service Contract Revenue Recognition Using RAR."
Leasing Contracts
Stay tuned for a blog about medical equipment leasing contracts.
Analytics
Customize and generate reports to keep you informed of service performance, non-compliance with contract entitlements, expiration dates, and more. Analytics from your service contract system helps you manage contracts and customer relationships effectively.
Armed with actual data that demonstrates equipment reliability and your performance against service contracts, you have information that promotes the sale of additional agreements.
Factors to Consider in Service Contract Creation
Establishing guidelines and requirements for service contract creation for medical equipment have many unique conditions.
Patient Safety
Safety is of course at the top of the list. What would the impact be on patient safety if the equipment is not available?
Patient Care and Outcomes
Design service contracts to afford the end user ultimate peace of mind in the provided services. As an example, communicate how service contracts will relieve hospital staff of difficult or non-productive tasks over the life of covered equipment:
Enhanced service solutions that support preventative maintenance activities

Comprehensive preventative maintenance programs

Compliance tasks, such as providing compliance documentation for the hospital
In one survey, service contract customers agreed that their staff can focus more on patient care and outcomes to help reduce intraoperative downtime at their facility[1].
Risk Minimization
What is the financial impact on the organization if the covered equipment is down? This may result in approaching service contract creation as an insurance coverage for critical equipment.
Service Performance History
Using historical data from other contracts for the customer, or even based on equipment for other customers, you can offer facts to back up the value of your service contracts and maintenance agreements.
Tracking Service Requirements
For existing contracts, track not only the services you provided, but also provide what the customer's cost would have been if the service contracts were not in force. This can be a real eye-opener for many customers and a valuable incentive to renew.
Improve Medical Equipment Service Contract Management with Detering Consulting's Billing Workbench
Detering Consulting has decades of experience working with SAP S/4HANA applications with a special focus on managing service contracts and facilitating entitlement checking unavailable in standard SAP.
Our Billing Workbench (BWB) software is an SAP add-on that is totally integrated with your SAP environment. BWB incorporates service contract management with all the functionality that medical equipment manufacturers require:
Automatic entitlement checking to ensure you are providing all the coverage your customers have paid for and are entitled to
Time-based service contracts for medical equipment with specific time-based service, PM, or calibrations
Usage-based contract elements for equipment where in-service or usage/metering is applicable
Implementing BWB provides an integrated solution for managing your service contracts within your existing SAP framework.
At Detering Consulting, we are firm believers in the premise that the more you keep your applications within SAP, the better off you will be for multiple reasons:
Integration leverages your existing commitment to SAP by utilizing native SAP functionality and a user-friendly and familiar user interface.
Eliminate interfaces or rekeying of contracts or billing information from non-SAP applications.
Automate your processes as much as possible.
Utilize your existing SAP infrastructure for service contract management.
Create Detailed Medical Equipment Service Contracts the Right Way
Don't let the quality of your service contract management and customer service suffer due to budget restrictions or project timelines.
Talk to a Detering Consulting professional today to discover how we can help you take control of your healthcare equipment maintenance contracts with an efficient SAP application that streamlines business practices, improves customer satisfaction, and provides consistent performance for contract entitlements.
[1] * Stryker ProCare Customer Engagement Study, Endoscopy & Instruments. 2014 Gallup Inc. Published August 2014.