I feel compelled to write about SAP's Dealer Portal. As investing significant amount of our time with the WebDynpro-based Dealer Portal solution causes brainstorming. What does the Dealer Portal do? In layman terms, SAP's Dealer Portal brings SAP Warranty online. Simple.
Dealerships, service centers, anyone we give access to can go online, register product, submit a warranty claim, look up claim status, print out a statement, things like that.
The Dealer Portal is a browser-based warranty claims front-end integrating the SAP ECC or S/4 HANA Warranty system, see my blog on SAP SCN: Warranty Processing via the new Automotive Dealer Portal
Late last year the project team was wrestling with error message "Claim XXX was changed; timestamp old is obsolete". We are excited to report-- we found a simple fix, implemented via a slick enhancement. How elating to find a fix for a showstopper issue like that.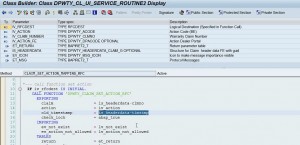 SAP Warranty Dealer Portal
Misc. Rants
Deploying the SAP Dealer Portal from a business and technical perspective makes perfect sense. Comparing interface development cost to standard software cost, that is already built by SAP for that specific purpose. Cost is not the only criteria, investing in a one-time, immediately obsolete effort versus deploying a standard platform that already solved the interface out of the box*)?
There is no free lunch.
Biggest bang for your bucks?
Notwithstanding effort for customizing screens, possibly enhancing specific processes, is still better than spending time in obsolete interface code... Contact us with any questions, love to talk shop!
Until next time --
Yours Truly
*) Mind you certain requirements will need adjustments to the standard interface
PS: Of course, we won't make any statements on license coverage here. External Dealer Portal users require external user licenses.