Keeping up with the ins and outs of stock management can be difficult. Usage, deliveries, billing, and procurement can overwhelm managers, especially within the automotive industry where parts can be sold or used in-house.
To help you run complex business functions with ease, SAP has created the SAP automotive self-service portal. The portal helps you lower the risk of errors and simplify maintaining stock records and inventory.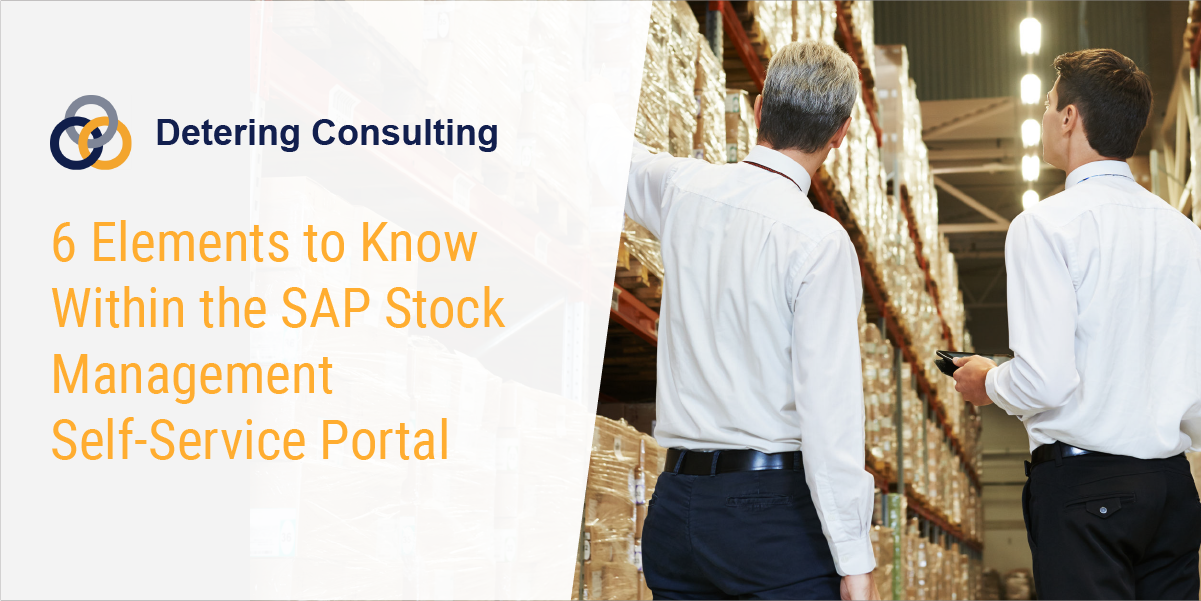 Dealer Stock Management Self-Service Portal Overview
The SAP automotive self-service portal includes the dealer stock management portal, which enables users to allocate materials for specific purposes, maintain stock input and output records, and document these movements for all departments involved.
For example, each time goods move, the system creates a document that updates quantities and values and proves that movement happened.
When you manage stock by value, it allows the system to update the following information automatically each time inventory changes:
Inventory management receive the value and quantity
Cost accounting receives account information
Financial accounting receives G/L accounts
These functions minimize human error and speed up the processing procedures.
SAP also keeps track of inventory by quantity. Users can follow transactions that change stock numbers in real time and view the overall status quo. This includes items that are:
Currently in your warehouse.
In the warehouse but are reserved.
Ordered but have not been delivered.
In quality inspection.
You can also subdivide lots further by one batch per lot.
The dealer self-service portal can help in other ways as well. When you want a part from someone else's warehouse, you can give them access to the portal and complete the entire acquisition process there. If a delivery is running late, drivers can notify you through SAP Event Management. The self-service portal acts as the best friend to stock management staff.
SAP Stock Management Self-Service Portal Elements You Should Know
1. Physical Inventory
The dealer stock management portal assists with physical inventory, including your own stock and any special stock such as returnable packaging and consignment inventory.
Performing a complete count of physical inventory is called periodic physical inventory. This is when every material in every warehouse is counted. During this process, all stock must be blocked from goods movements for the entire inventory period to ensure a full count, which makes this type inappropriate for frequent use.
To solve this problem, SAP supports the following types of physical inventories as well:
Continuous physical inventories: Count materials continuously throughout the year, with each material counted at least once per year.
Cycle Counting: Count materials in regular interval cycles throughout the year, fast-moving items are counted more often than slow-moving items.
Inventory Sampling: Materials are counted at random using the balance sheet key date. If differences between the book inventory balance and the random count are small enough, book inventory counts are assumed to be correct.
Since completing a complete count of all materials is expensive and time-consuming, inventory sampling offers the easiest solution. Extrapolating the overall quantities based on the amounts in a sample saves time and resources.
Sampling can also be done in quality assurance. You can check one item and infer that the rest of the batch is of similar quality. To gather an effective estimate, samples must be large enough and materials selected varied enough to represent the whole.
Similar to standard inventory-taking, inventory sampling can be done periodically in one concentrated effort or continuously in one area or another over time. Once a sample is taken, SAP uses statistics to determine if the discrepancy between the sample count and the total number on record corresponds closely enough. If they do, you probably have an accurate count on the books. If not, more inventory-taking methods need to be applied.
Tips to Create a Smooth Physical Inventory
In preparing to take any type of physical inventory, proper planning saves time and ensures an accurate count. The following steps will prepare you for a smooth inventory:
Create an inventory document that includes location, dates, and specific inventory to be counted
Block relevant materials to ensure items aren't changed during the count (the system will automatically cancel the block once you post the inventory results)
Print and distribute the inventory document
Once the count has been completed, it is entered into the system. If you used a program other than SAP for the counting process, you could still enter the information into the SAP system by batch or Portable Data Capture (PDC).
If you suspect an error, you can issue a recount, and the system creates a new physical inventory document. If the numbers from the count differ from numbers in the books, post the differences in the system, and it will change the book numbers and end the physical inventory.
As physical inventories of any kind take place, the system displays quantitative and qualitative data in the Logistics Information System (LIS). The LIS also stores data according to inventory number, plant, storage location, and material.
2. Logistics Information System
The LIS does more than just store inventory data. It also helps with product planning, purchasing, and invoice verification. In addition, the LIS contains the Inventory Controlling component, which collects inventory management data and compresses it for evaluation.
LIS is responsible for monitoring the staging of materials for production orders and producing receipts for the finished product in the warehouse. This allows you to plan for the removal of component parts and reappearance of completed parts in inventory.
Now that you're ready to sell these goods, you can check the stocks you have on hand for availability using the LIS. Once a sales delivery is arranged, that quantity of goods is marked as "scheduled for delivery" and deducted from the total number of available materials. The system then determines if that material needs to be quality inspected before shipping and informs that department as needed.
3. Movement of Goods
There are three main types of goods movements: receiving goods, shipping goods to customers, and transferring goods between areas within the business, such as warehouse to warehouse or warehouse to plant. Let's look at each of these individually.
Goods Receipt
Goods receipt is the reception of goods from outside vendors or internal production. The Inventory Controlling component of the LIS plans for the receipt of goods by recording:
What is arriving?
How much is arriving?
When it will be delivered?
Where it's coming from?
Where it's going?
This system accelerates the process and avoids bottlenecks at the reception point. This also assists management in balancing inventory not physically present and preventing over-purchasing.
Once you receive an order, it must connect to the purchase order to determine:
Whether the delivery corresponds to the order
If the order was delivered in the right quantities
When purchases arrive and initiate reminders from the purchasing department when inventory is late
If the order price matches the price agreed upon
SAP can also attach a location to the purchase order, so the goods automatically go to the right area for either storage or consumption.
Goods Issue
A goods issue involves:
removing items from inventory by selling them to customers
returning them to vendors
using them internally
Goods issues reduce warehouse stock.
Different components of the dealer stock management portal manage different types of goods issues. The Sales & Distribution (SD) component deals with withdrawing, choosing, and shipping goods to customers. The Inventory Management Component deals with staging components for production and allocating materials for other purposes such as maintenance.
However, if a material is not usable, it must be returned to the vendor or scrapped. Both are recorded as goods issues since they reduce inventory.
Quality inspection can sometimes end in scrapped materials as well because of the process used to inspect them. For this reason, drawing a sample of goods from inventory is considered a goods issue and removes that sample from the current stock. If the materials are still usable after testing, they return to inventory and are a goods receipt.
The SAP automotive self-service portal will check the availability of items to maintain item balances above zero. It considers items currently in stock, those that have been entered but not yet posted, and those reserved for other purposes. An error message is issued if there is not enough stock available to cover a goods issue.
Stock Transfer
Stock transfers are both a goods issue and a goods receipt. They involve moving materials from one location to another within the company. Stock transfers occur in three ways:
From plant to plant: both plants change in stock, accounting document created
From company code to company code: transfer from a plant with one company code to a plant with another
From storage location to storage location within a plant: causes both locations to update their quantities, stock value does not change
There are several procedures for transferring stock:
One-step procedure: This involves filling out a single transaction in the system indicating the transfer. This procedure simplifies the transfer process and only involves two material items on the document: removal from one location and placement in another location. Simple.
Two-step procedure: This begins with filling the same form but adds the ability to monitor where the stocks are in transit. This procedure is required if the users do not have authorization for other plants. Instead of a single document with several items, the system creates two material documents. The first document monitors the outgoing shipment, and the second monitors the incoming shipment.
You can also transfer stock via a stock transfer order. This method optimizes route planning using the Routing-Guide in SAP Supply Chain Management (SCM).
4. Stock Determination
When issuing or transferring stock, stock determination establishes how, when, and where that stock should come from rather than requiring you to go through inventory and time schedules to determine these factors. You configure which strategies SAP uses to make these decisions in customizing.
Stock determination can take place in two ways. Automatic determination makes the decisions for you without any consultation, and you have no way of changing that decision. If you want the ability to modify the stock determination results, configure online processing to display these results in the dialog box, and you will be able to input changes manually.
5. Reservations
Reservations set apart materials in the warehouse to be used later. This ensures materials are still available when needed.
The information required to create an accurate reservation are:
What is being reserved?
How much?
When will it be needed?
Where will it come from?
Where is it going?
You can manually create a reservation or have the system automatically reserve items under certain conditions. Usually, an automatic reservation handles materials for stock transfers and order components. When materials in one location fall below the reorder point, SAP automatically reserves the necessary number from another site.
If an order is placed for an element, the components of that element are reserved for that order. In this instance, the reservation can't be changed manually. Instead, you must change the necessary components in the order, and the system will then shift the reservation parameters.
The dealer stock management portal also allows you to create priorities in reservation documents at the item level. The system will generate a requirement urgency rating and importance of each order. This is then used to determine which items are issued first.
It's essential that reservations are taken into consideration by Material Requirement Planning (MRP) so that stocks don't get counted when they aren't available. This also allows MRP to procure new stock on time.
6. Special Stock
Special stocks are stored with a vendor or customer, returnable packaging materials, or do not belong to your company.
Special stocks that belong to you but are stored elsewhere are managed at the plant level instead of the storage level. This includes stocks you send to a vendor who uses those parts to create a new stock item for you. Since they are your property, they are available for Materials Planning.
Consignment materials stored by customers are not available for Materials Planning.
Returnable packaging materials encompass items such as pallets and crates. These items belong to you but were shipped to the customer for packaging purposes and must be returned. Like items stored by customers, these materials are not available for Materials Planning.
Other special stocks consist of items owned by the vendor but stored on your property, returnable transport packaging (RTP), and sales order materials. Sales order materials are used for consigned orders and will be returned to the customer in the form of a new product.
Know More about Dealer Stock Management Portal
SAP makes managing stock easier through the dealer stock management portal. If you would like more information, contact the experts in using SAP to improve your business.